THQ Nordic pours cold water on TimeSplitters 2 Remake tease
"This is just an innocent Easter egg."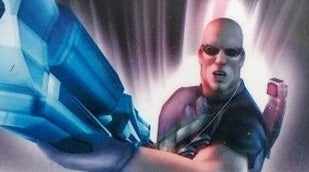 SpellForce 3: Fallen God publisher THQ Nordic has played down the possibility of a TimeSplitters 2 remake, after including a tease in its latest game.
Speaking to Eurogamer this morning, THQ Nordic said the ability to obtain the box for a "TimeSplitters 2 Remake" in SpellForce 3 was designed to be a joke.
"This is just an innocent Easter egg," a THQ Nordic spokesperson said. "The vendor in the game is a character known especially for not telling the truth."
The vendor also sells boxes for "cancelled" Biomutant and Gothic games (and while we've not heard much about both in a while, neither of these are officially cancelled). THQ Nordic said both of these boxes were jokes too.
As far as the future of TimeSplitters is concerned, well, THQ Nordic's parent company Embracer Group does own the franchise and there have been rumblings of a new game being in early development. But this project is being handled elsewhere within the vast Embracer empire, and not by THQ Nordic itself.
In 2019, former Rare and Free Radical Design veteran Steve Ellis was tapped to return and work on a new TimeSplitters project, though nothing more has been announced since.
When asked for more information on that project, THQ Nordic said it could not speak for that franchise as it was not the specific company working on it - if it did indeed exist.
But a TimeSplitters 2 remake? Until we hear something more official, don't get your hopes up.