These Turtle Beach COD: Black Ops 2 headphones cost £300
Do they make tea?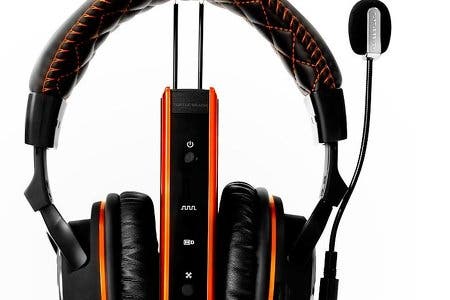 Are your house-dwellers fed up with the sound of explosions? Do you dial down the volume for a timid war experience?
Well, don't - use the new mega-ultra-super Turtle Beach headphones that cost more than your console!
The Turtle Beach: Call of Duty Black Ops 2 Tango Headset sells for an astonishing RRP of £299.99 (ShopTo has them for £265 - the best price we've seen).
They've got all the technology, gadgets and gizmos that high-end wireless cans-with-mics should have: 5.1 surround, dual-pairing Bluetooth, rechargeable battery, dual-band Wi-Fi, blah blah blah.
Plus, there's a load of fancy sounding Turtle Beach inventions like "voice morphing", which can disguise your voice in deep tones or in screeching highs.
But why are they 300 quid?
Perhaps it's because Black Ops 2 developer Treyarch has designed audio presets specifically for use with the game. Or maybe it's because the actual voice actors of Black Ops 2 have recorded voice prompts for the headphones to tell you when they're powering on, pairing, running low on battery "and more" - "go to the toilet, you're leaking", perhaps.
There's also a little Black Ops 2 logo on one of the earphones, and the words Call of Duty etched across the top of the headband.
The Tango headset is the most expensive of the Black Ops 2 Turtle Beach collection. The range arrives in October, although individual online shops seem to disagree - touting various dates in October and November.
Black Ops 2 arrives on 13th November.