The Outer Worlds' Murder on Eridanos DLC arrives next week
On PlayStation, Xbox, and PC.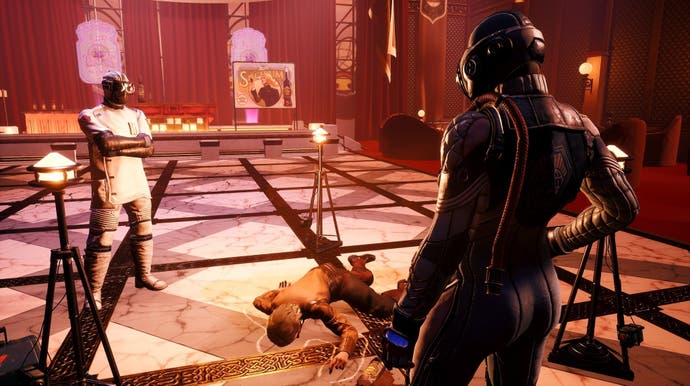 Obsidian has confirmed that Murder on Eridanos, sci-fi adventure The Outer Worlds' second expansion, will be making its way to PC, Xbox, and PlayStation next Wednesday, 17th March.
Murder on Eridanos, which follows on from last year's Peril on Gorgon expansion, sets players the task of uncovering renowned actress Halcyon Helen's killer, an investigation that takes them all across a luxury resort of drifting islands caught in a perpetual storm.
There are clues to find using the new Discrepancy Amplifier tool, alibis to scrutinise, and witnesses to interrogate - including some of the planet's biggest stars - and Obsidian maintains The Outer Worlds' choice-driven action by giving players a broad range of options when it comes to identifying the culprit.
"Do you falsely accuse an innocent spectator?", the developer asks on the PlayStation Blog. "Do you present a poor case with lack of evidence? How will others respond? What happens if you try to convince people that you somehow are responsible for the murder?".
Expect to uncover new perks and flaws, new scientific weapons, new armour variants, and an assortment of new quests as Murder on Eridanos unfolds.
Murder on Eridanos will be available to purchase individually (likely for around £12 if the cost of Peril on Gorgon is any indication) or as part of The Outer Worlds' £20 expansion pass when it launches next Wednesday, 17th March, on PlayStation, Xbox, and PC.