The Forza 4 Limited Collector's Edition
Top Gear book! Stickers! Extra cars!
Buy the Limited Collector's Edition of Forza Motorsport 4 this October and you'll get a VIP car pack, American muscle-car pack, custom BMW car pack and the 2012 BMW M5 car.
That M5 is what you'll see on the Forza 4 box. It's that important.
Inside the "polished Steelbook DVD case" of the Limited Collector's Edition you'll find a 96-page Cars of Forza Motorsport 4 volume curated by "the editors of Top Gear", according to the Forza website. You'll also get stickers, VIP membership to the Forza community and a BMW theme for the Xbox 360 dashboard.
If you put your order in early enough, a Launch Bonus car pack will be thrown in as well. In this are a mix of new and old: 1965 Ford Mustang GT Coupe, 2011 Koenigsegg Agera, 1997 Lexus SC300, 2011 RUF RGT-8, 2011 and Tesla Roadster Sport.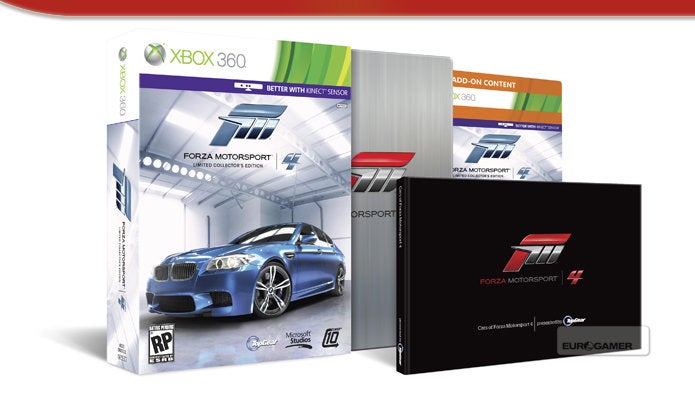 The VIP car pack mentioned above contains the most slobber-inducing supercars around: a 2011 Bugatti Veyron Super Sport, 2011 Ferrari 458 Challenge, 2011 Lamborghini Gallardo LP570-4 Superleggera, 2010 Noble M600 and 2011 RUF Rt 12 R.
What's in the American muscle-car pack isn't mentioned.
The Limited Collector's Edition of Forza Motorsport 4 will cost £59.99, and is exclusive to Game and subsidiary shop-chain Gamestation.
There are pre-order bonuses for the Standarad Edition of Forza 4 at various UK shops. Game gives a Subaru Impreza WRX STI (unfortunate acronym alert); Gamestation gives a Mini John Cooper Works Clubman; Amazon gives an Alfa Romeo Giulietta Quadrifoglio Verde; HMV gives a Honda CR-Z EX; and Zavvi, The Hut and ShopTo give a BMW 1 Series Coupe.
Eurogamer's E3 preview of Forza Motorsport 4 described "a shake-up" for Turn 10's acclaimed Xbox 360 racing series: "A better, smarter game that's less sterile and much more alive."