The Flock flocks to Steam and the Humble Store next week
Pre-order for a free second copy.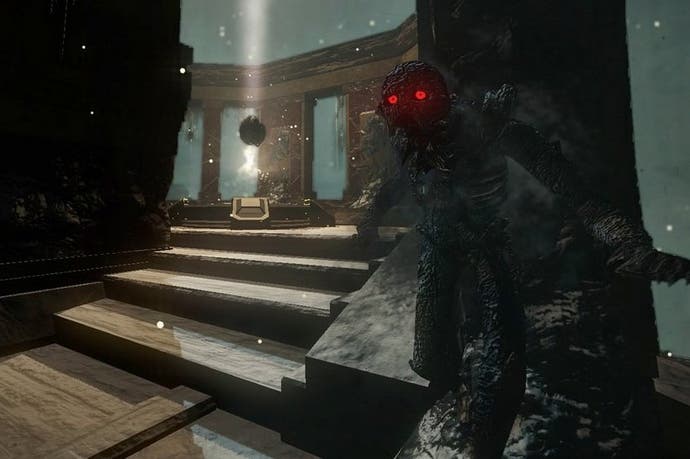 Asymmetrical multiplayer horror game The Flock will launch for PC on 21st August, developer Vogelsap has announced.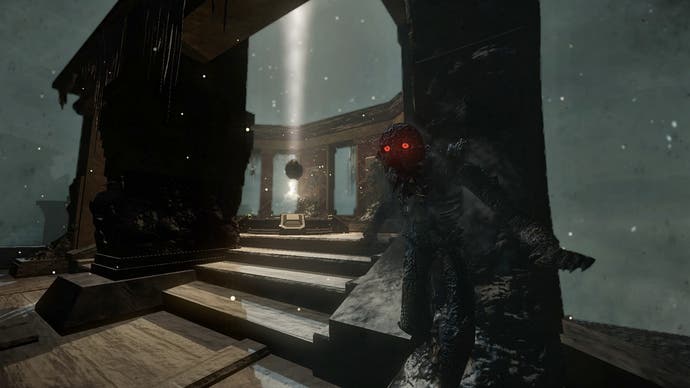 Priced at £12.99 / $16.99, players can pre-order the game on Steam or the Humble Store to get a second copy for free.
For the uninitiated, The Flock is a unique twist on first-person multiplayer games wherein everyone starts out as a nimble gargoyle-esque alien creature, the titular Flock, and must grab a magical flashlight-like device called the Light Artifact. Holding this transforms you into a week humanoid creature, but the light from its beam can be used to fry any Flock it comes across. For more detail on how The Flock plays, you can read my hands-on impressions with it from GDC.
Making The Flock even more unique is the fact that it will only be playable for a limited time. Every time a player dies, it reduces the Flock's population. Eventually the game will go offline forever.
That should take a long time, though. At launch the Flock's population will start at 215,358,979.
When this ticks down to zero the game won't be over, however. Instead, it will simply be removed from sale, but those who already own the game will still be able to play phase 2 with a new population.
"This last phase will come to an end with an unannounced climactic finale," the developer explained.
Vogelsap noted that won't adjust the counter unless the game ever gets a console release. Then it would boost the population to account for the influx of new players.
It's a strange idea for sure, but creative director Jeroen van Hasselt has an interesting take on it:
"We've asked ourselves what kind of experience people would be getting from The Flock years after release. Hardly anyone would be online and those still playing would be either great at the game or brand new. That's not a fun player-experience," he said. "So we think it's worth sacrificing that possibility in order to try and improve the experience for most players when they are actually playing the game."
For more details on how The Flock and its experimental release program works, check out the developer's FAQ.