Terraria company ditches spin-off maker after troubled development
Otherworld essentially starts over two years after it was announced.
It looks like the wait for Terraria spin-off Otherworld will go on a lot longer - work has essentially started over after what sounds like a troubled development.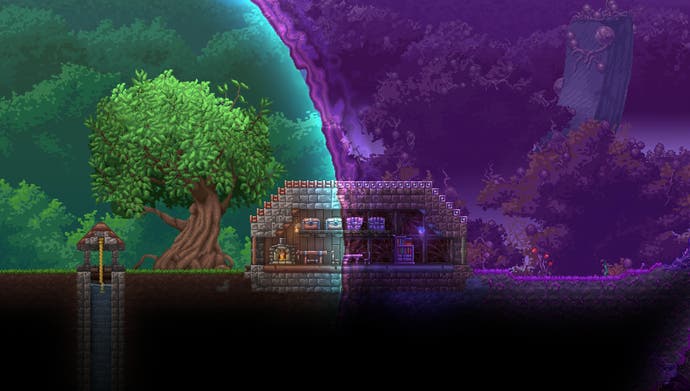 Terraria: Otherworld was announced in February 2015 as a spin-off from the hugely popular Terraria series. It was intended to task players with purifying the world of the Corruption by finding and activating purifying towers that push back the spread. The idea was that it would include more strategy and RPG elements, such as a new tower defense mechanic, as well as a skill tree.
Terraria owner Re-Logic contracted Dutch developer Engine Software to make Otherworld after its good work porting the original to PS Vita, PlayStation 3 and Xbox 360. But it seems things did not go well.
Re-Logic broke a period of radio silence with a forum post published in July 2016 to say Otherworld "needed quite a bit of work - and even a good bit of rework - in a number of areas". The lead designer and art lead at Engine were replaced "to better align to our vision for the game".
At the time, the expectation was that Re-Logic would continue to work with Engine Software to try to save Otherworld, but now, half a year later, it is clear that effort failed.
In a post on the Terraria forum, Re-Logic said it had taken Otherworld away from Engine Software and handed development duties to Pipeworks, a studio that did Terraria re-write work on console and mobile.
"Our team had a clear vision for this game - one that we shared with all of you with much shared excitement - and, as much as we hate to say it (and in spite of all of the reforms we tried last year) - the current state of the game is still equal parts far from that vision and well behind schedule," Re-Logic said.
What this means is a fresh start for Otherworld - and a lengthy wait for fans.
"Come whatever may, quality is simply not something we are willing to compromise on to make a quick buck," Re-Logic said.
"It may be painful in the short term, but our sincere hope is that it will pay off for everyone in the long term. Clearly, had we known this would be the scenario way back then, we would have held off on announcing the game until a later time - but such is game development. That said, we are really happy and confident with the new team and new plan - and cannot wait to get back on track."
Re-Logic plans to work with Pipeworks to examine the entire game from top to bottom, but warned fans to expect the quiet period to go on a bit longer.
So, what went wrong with Engine Software? It's clear the studio struggled to meet the expectations of Re-Logic, but there are also suggestions the project suffered from mismanagement.
In a panel organised by the Centre for Computing History, ex-Ocean Software artist Simon Butler discussed his last project, which happened to be Terraria Otherworld (skip to the 55 minute mark).
Butler came in to work as a 2D artist on Otherworld in October 2014, a few months before the game was announced. He left in September 2015, less than a year later.
"First day, here's your PC," he said during the panel. "Excellent. Nice desk. Even got me the right software. So, what would you like me to do? Tumbleweed goes through the office. Well don't worry about it, we'll look at the game design. There isn't one. Oh, we don't have a game design, we have a wikipedia. Well, let's have a look at the wikipedia. Nothing has been touched on it for over a year.
"People had collected a salary and done nothing on the project for a year."