Switch mech shooter Daemon X Machina is heading to PC next week
Promises visual upgrades and more.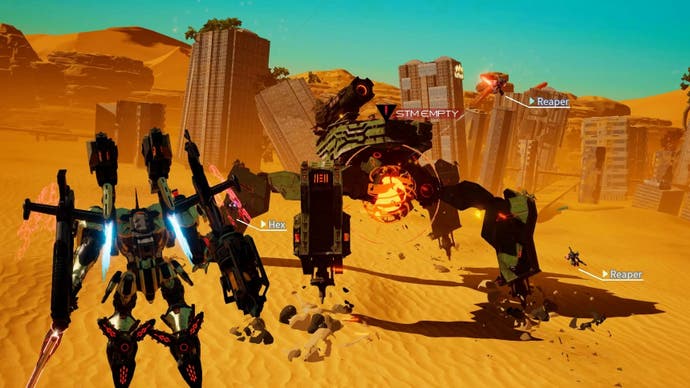 PC players hankering for a spot of big stompy robot action are in luck; developer Marvelous has announced that previously Switch-exclusive mech shooter Daemon X Machina will be heading to Steam next week, on 13th February.
Daemon X Machina casts players as mercenaries employed by the Orbital organisation, then sets them loose in huge Arsenal mechs, sliding and zooming across a vibrantly hued post-apocalyptic landscape (albeit restricted to a limited area each mission), blasting the bolts off vast machines driven by corrupted AIs known as the Immortals.
Mechs are fully customisable with new weapons and upgrades, and it's even possible to start tinkering with your player avatar - messing around with simple cosmetic enhancements or, if you prefer, subjecting them to massively invasive surgical procedures to receive body modifications that imbue certain perks but can have a major impact on their appearance.
There's online co-op for those wanting to buddy up with friends, as well as multiplayer Exploration Missions. Additionally, players with a competitive streak can battle others in 1v1 or 2v2 matches in a bid to climb the leaderboard.
Eurogamer's Martin Robinson slapped Daemon X Machina with a Recommended badge when it released for Switch last September. Despite some rough edges making for "an imperfect revival of a sub-genre that already had enough imperfections of its own", Martin reckoned that "Daemon X Machina knows what made those old games click, and dwells on the details that made Armored Core sing."
Marvelous promises visual upgrades, customisation options, plus gamepad and keyboard and mouse support when Daemon X Machina comes to PC next week, alongside all the post-launch content updates seen on Switch - with the exception of certain licensed content.
Daemon X Machina will cost £49.99 on Steam, but there's a 20% discount for those that pre-purchase ahead of the game's 13th February release, putting the price at £39.99. Pre-purchasers also receive the Prototype Arsenal, Prototype Plugsuit, and Metallic Equipment Set. The latter contains five unique weapons and the Metallic Plugsuit outfit, and will be exclusive to pre-purchases and "early bird" purchases.