You can get £10 off the Hori Split Pad Pro controller for Nintendo Switch
Chonk.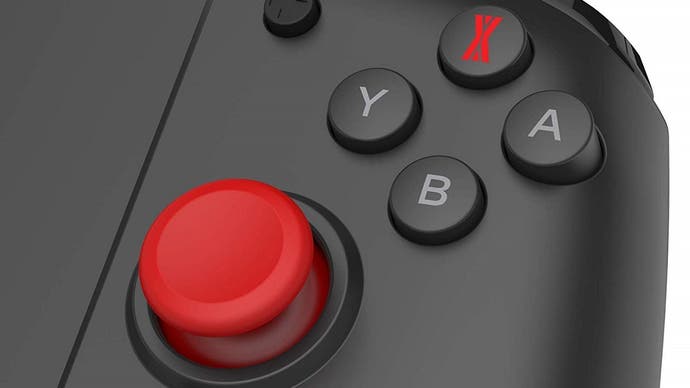 Amazon has taken a tenner off the chonky Hori Split Pad Pro for Nintendo Switch, bringing the controller attachment down to just £34.99.
While it's clearly on the bulky side, having something that's similar to a full Xbox controller can certainly make playing games in handheld mode much more comfortable for longer periods of time. I don't know about you, but I've felt my thumbs cramping up after a while with the Switch joycons.
Other features of the accessory include a proper d-pad (thank you!), programmable buttons on the rear and a good old turbo mode. Just to be clear, though, you can't attach the two parts together to make some homebrew Switch Pro Controller. They have to be attached to the console to be powered up and you can even leave it attached while docked.
The Hori Split Pad Pro is officially licensed by Nintendo as well, so this is a well-made bit of kit. It's definitely not like some of the horrendous third party abominations usually seen passed off onto an unfortunate player two. Speaking of that, we do have a look at some options if you're after a quality cheap Switch Pro controller at Jelly Deals.
---
Even more Switch offers can be found over at Jelly Deals. Give us a visit to find the best power bank for Nintendo Switch, the best value SD card for Nintendo Switch and our top picks if you're after the best Nintendo Switch Lite case for your new console.
---
This version is the Daemon X Machina Edition, though that branding seems to extend to little more than the game's 'X' logo on one of the face buttons. Apart from that, it seems relatively indistinct. Well worth considering now it's down from its usual price of £44.99.
For those of you still keeping an eye out for a Switch console might have got lucky when some popped up in stock very briefly on Wednesday. If you're still searching, do check in on our page gathering all the Nintendo Switch bundle deals we can find. We'll be updating it regularly!