Stylish boss rush hack-and-slasher Furi is getting new Onnamusha DLC
UPDATE: "We understand your frustration," developer tells fans, on lack of Xbox port.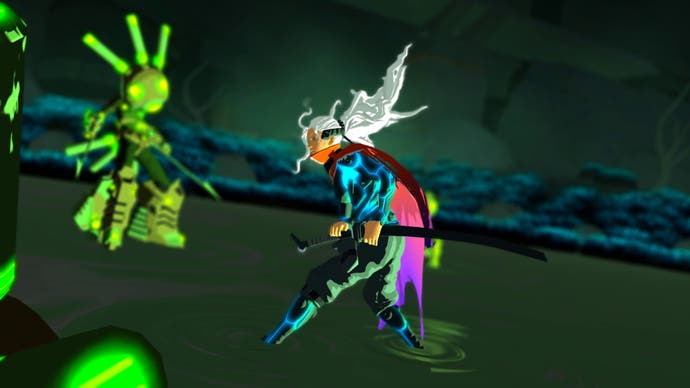 UPDATE 5/5/22: Furi developer The Game Bakers has issued a short statement to fans on the game's lack of DLC support for Xbox.
The indie title originally released for console on PlayStation in July 2016, when it arrived via PlayStation Plus. It then did not arrive on Xbox until December that year.
"We have heard all of you who played Furi on Xbox and we understand your frustration," The Game Bakers wrote on Twitter. "We are a small indie team and we couldn't find the time and budget to make that port.
"Furi never captured a lot of attention on Xbox and unfortunately we had to prioritize platforms. We hope to be developing for Xbox again in the future. Thank you for supporting our games."
---
ORIGINAL STORY 3/5/22: Furi, the now six-year-old psychedelic boss rush extravaganza from developer The Game Bakers, is poised to receive a new lease of life later this month on 17th May with the arrival of its newly announced Onnamusha DLC.
Furi - which The Game Bakers has previously described as a "love letter to Japanese action games such as No More Heroes, Metal Gear Solid and Godhand" - first released on PC in 2016, pitting its protagonist The Stranger against 12 incredibly stylish bosses. Each encounter played out very different - each boss requiring entirely new strategies to defeat - but it's all built around the game's streamlined one-on-one "dash-and-slash" action.
Onnamusha, then, aims to freshen up Furi's six-year-old core by giving players a brand-new protagonist that can be used throughout the existing Story, Speedrun and Practice modes.
Referred to as the Onnamusha Rider, the new character is a powerful fighter that's able to alternate between two stances - fast and agile Spark stance or slower but lethal Storm stance - in a bid to maximise damage, fill a meter, and unleash her "devastating" Star power.
Furi's Onnamusha DLC will cost $6.99 USD when it launches for PlayStation, Switch, and PC on 17th May. It'll arrive alongside a free update for the base game giving all players access to Furi's earlier One More Fight DLC, and adding its various post-launch updates - including the likes of Invincible Mode, Furier Speedrun, Alternate controls - to all platforms.