Streets of Rage 4 shows off four-player co-op, new character Floyd in latest trailer
Coming to PC and consoles this "spring".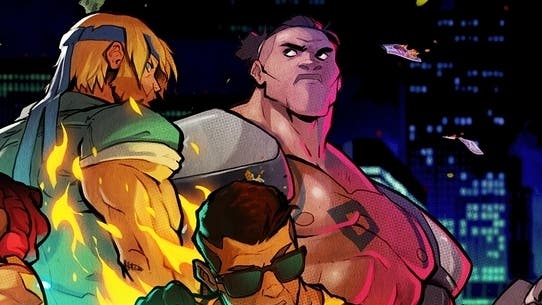 Publisher Dotemu has offered up another trailer for beat-'em-up revival Streets of Rage 4, this time showing off four-player co-op and revealing new character Floyd Iraia.
Streets of Rage 4 is the work of Lizardcube, the developer behind 2017's superb Wonder Boy: The Dragon's Trap remake, and Streets of Fury studio Guard Crush Games, and looks to deliver a gently modernised take on the side-scrolling beat-'em-up action of Sega's original trilogy.
It sports an arresting new art style, a soundtrack featuring music from the likes of Yūzō Koshiro (Streets of Rage 1, 2, and 3, Sonic the Hedgehog) and Motohiro Kawashima (Streets of Rage 2 and 3, Shinobi 2), and promises "expanded combat abilities".
Previously, Dotemu confirmed Axel Stone, Blaze Fielding, and Adam Hunter as returning characters from earlier games, and also unveiled newcomer Cherry Hunter. Streets of Rage 4's newly revealed second fresh face, Floyd Iraia, is described as a "cybernetic brother-in-arms" and hulks onto the scene, and into the latest trailer, with two formidable metal fists a-flying.
There's also a look at multiplayer in the new video, with Dotemu now confirming that two friends will be able to tackle the game's challenges together while online, and that up to four players can team up co-operatively offline.
There's no release date for Streets of Rage 4 just yet, but it's expected to arrive on PlayStation 4, Xbox One, Switch, and PC some time this "spring".