Stardew Valley's multiplayer update is now available in public beta on PC
Steam only currently, GOG in the next few days.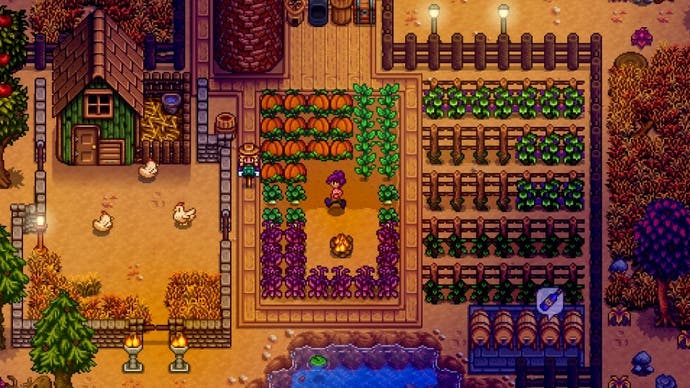 Farming life sim Stardew Valley's long-awaited multiplayer update is now available to download on Steam, albeit only in public beta form for the time being.
Update 1.3, as the new multiplayer-focussed patch is known, has been in internal testing and QA for several months now, and is finally at a stage where it's ready for scrutiny by a wider audience. Before you hoist hoes and dive on in, however, there are a couple of things you'll need to know and do.
Firstly, be aware that the beta is currently only available on Steam (GOG access is coming in the next few days), and that you'll need to manually opt-in to access it. Thankfully, this is a relatively straightforward process, and all you need do is locate Stardew Valley in your Steam library, then right-click on its name and select 'Properties'.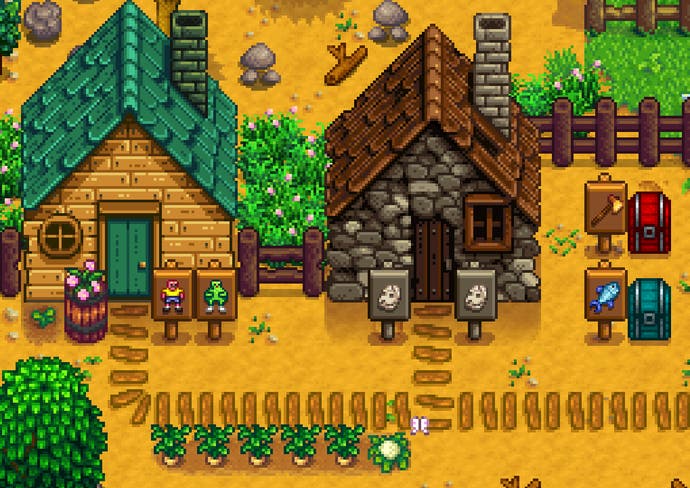 From there, select the 'Betas' tab in the new window, then enter the code jumpingjunimos in the text box. Next, click the 'Check Code' button, select the 'Beta' option from the drop-down box, and you'll be good to go. Multi-person farm adventures will soon be yours!
Publisher Chucklefish notes that you'll be able to use your existing farm in the beta, but only once you've kitted it out for multiplayer action. However, it strongly advises that you make a copy of your existing save beforehand, just in case, given that this is still a beta and all. You'll find full details on how to do this over in the latest Stardew Valley blog post.
The post also contains an exhaustive set of instructions and pointers for getting a multiplayer session up and running once you've successfully accessed and downloaded the beta update. There are a variety of useful menu options and routes you can take in order to play with your friends, but the absolute first thing you'll need to do is build a sufficient number of cabins on your host farm to house your chums.
Cabins function as permanent living quarters for non-host friends, and a farm can accommodate up to three alongside a host's main farmhouse. And at 100 gold per cabin, established farmers shouldn't have any trouble setting them up ready for play.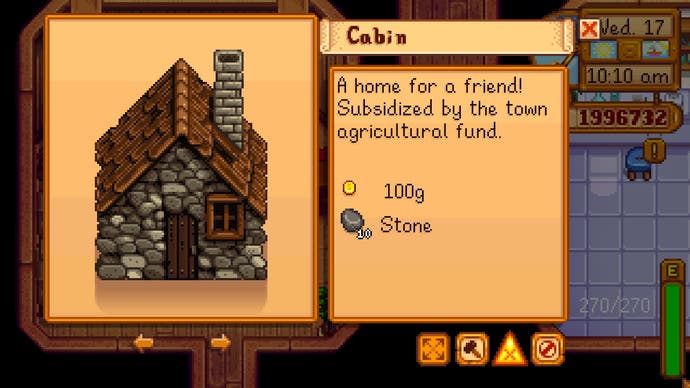 Chucklefish cautions that multiplayer sessions work a little differently to solo mode, so there are certain things you'll need to be aware of. For instance, in order to sleep and progress to the next day, every online player must be in their bed, and must confirm the dialogue option once it appears. Festivals work in much the same way, once players congregate in the correct location.
Additionally, certain features and functions are shared across players, while others remain separate. Your farm, money, and world updates, are shared, for instance, while skills, NPC relationships, and inventories, are all separate - although an offline player's inventory can be accessed through their cabin chest of drawers if you need something from them in a pinch.
Aside from all the fancy multiplayer stuff, Stardew Valley's 1.3 update also contains the single-player additions (including the mysterious nautical fare) that creator Eric "ConcernedApe" Barone has been teasing at various intervals over the last couple of months.
There's currently no fixed date for update 1.3's move from beta to the stable branch - this, presumably, will depend entirely on how public beta testing goes. Chucklefish has previously explained that Stardew Valley's multiplayer update will make its way to consoles once finalised on PC. Switch players will receive the update first, with Xbox One and PS4 to follow.