Square Enix's celebrated Switch RPG Octopath Traveler coming to Steam in June
PCs of eight.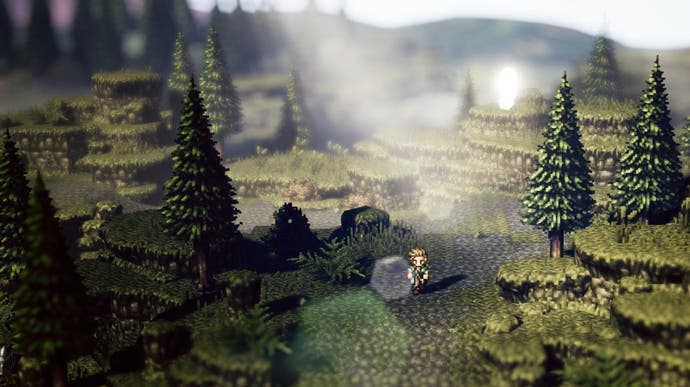 Octopath Traveler, Square Enix's celebrated retro-ish J-RPG, will be throwing off the shackles of Switch exclusivity on June 7th - when it comes to PC via Steam.
That's not exactly a huge surprise, seeing that Square managed to leak the news on its own website last week, but at least we now know that nothing has changed since then. And it's welcome news too, given that Octopath Traveler is a generally superb effort on Square's part, and one of the more eye-catching J-RPGs of recent times.
Octopath Traveler, which debuted on Switch last July, has two big tricks up its sleeve: the first is its gorgeous, immediately striking art style, which reimagines the classic 16-bit J-RPG aesthetic into full 3D - with chunky pixels still in tact (Square calls this "HD-2D").
It's a wonderfully distinct look that shone brightly on Switch and, unsurprisingly, translates just as well to PC, as you can see in the announcement trailer below.
Octopath's other big feature is that, rather than focussing on one hero's epic journey, it follows the adventures of eight different protagonists, each with their own traits, skills, and stories to tell. There's a knight, a scholar, a merchant, a cleric, a noble, an apothecary, a thief, and a hunter - with their adventures ranging from tales of redemption to tales of revenge.
"Octopath Traveler is the kind of game that gets hand-waved aside as being for 'the old school', but that's to overlook its charismatic innovations in battle and the strange, detached, even austere construction of its narrative," said Martin Robinson when he reviewed the Switch version last year, "Give the game time to bed in, however, and you'll find it a bold contribution to a genre that has always been a little too in love with its past and the past in general."
There's no price for the PC version of Octopath Traveler just yet, and no word on any notable platform-specific enhancements. As such, it's probably worth keeping an eye on Octopath Traveler's Steam page for more information as its June 7th release date approaches.