Splinter Cell: Blacklist screenshots leak
Daylight shone on new Sam Fisher shooter.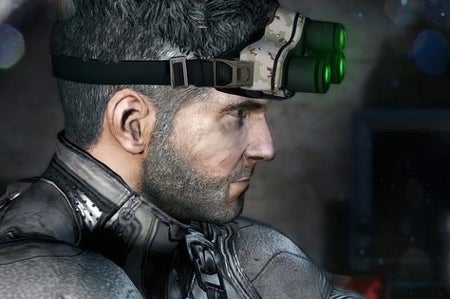 First screenshots from Ubisoft's as-yet unannounced Splinter Cell Blacklist have been posted online by French site Gamekyo.
The images depict series star Sam Fisher storming a dusty Middle Eastern settlement dressed in desert camouflage gear.
It's broad daylight, but Fisher's iconic trifocal goggles return.
Fisher is shown wielding a pistol and assault rifle, and brandishing a knife in a close-quarters group fight.
You can shoot from behind cover, and while hanging from buildings. A crossbow with electric darts also makes an appearance.
Fisher's location, Mirawa: Jadid Basecamp, is shown in the game via some sort of holographic hub. It's a bit Ghost Recon: Future Soldier, and also brings to mind the in-game projection introduced by Blacklist's immediate predecessor, Splinter Cell: Conviction, an outing that also introduced a more action-heavy agenda to the series.
"Where once players were free to tackle Splinter Cell's enemies in myriad, improvised ways, now the options are more limited, traded for an upped tempo that's more Arkham Asylum than Metal Gear," wrote Simon Parkin upon the game's release two years ago. "At its best, Conviction is played as a high-stakes puzzle game, taut and thrilling when everything is going your way. But when cover is broken, the floodlights go up to reveal a mediocre shooter."
The much-rumoured next Splinter Cell is being developed at Ubisoft Toronto under the guidance of Jade Raymond.
Ubisoft's E3 press conference is tonight, at 11pm UK time. Expect to hear more then.