Sony apparently "won't allow" Ark: Survival Evolved PS4-Xbox One cross-play
"We have it working internally..."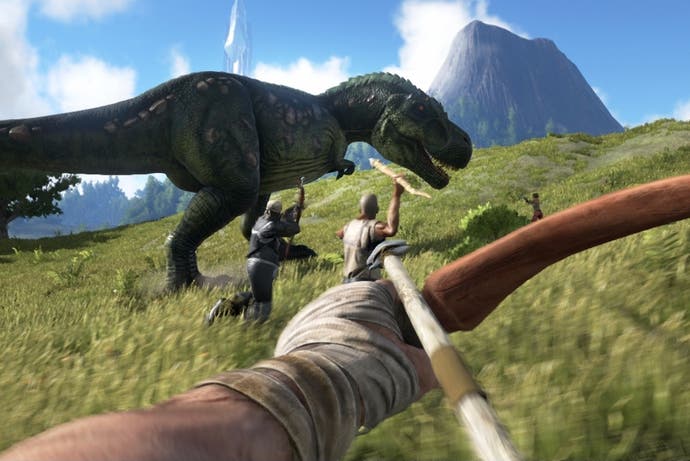 Popular multiplayer dinosaur survival (isn't that an oxymoron?) game Ark: Survival Evolved cannot let PlayStation 4 and Xbox One players play together because Sony apparently "won't allow it".
Ark's Jeremy Stieglitz - co-founder of developer Wildcard as well as lead designer, programmer and co-creative director of the game - wrote on Twitter: "For Ark, if the session host is running an Xbox One X, anyone connected to that host will not have tether regardless of clients' consoles :)."
This prompted someone to ask whether PS4 and Xbox One audiences would ever be able to play Ark together, to which Stieglitz replied: "We have it working internally, but currently Sony won't allow it :(." He didn't elaborate.
If true, Ark would follow in the footsteps of Minecraft and Rocket League, both of which have cross-platform play between Switch, Xbox and PC - but not PS4. Sony not playing cross-platform ball was something Wes grilled PlayStation global marketing boss Jim Ryan about at E3 this summer.
"It's certainly not a profound philosophical stance we have against this," he said. "We've done it in the past. We're always open to conversations with any developer or publisher who wants to talk about it."
But the trend continues.
Ark: Survival Evolved launches in full on 29th August after two years in early access. It's coming to PC and Mac, PS4 and Xbox One. Ark will also support Xbox One X, maybe in the form of two performance options: a 1080p60 mode roughly equivalent to 'medium' graphics settings on PC, and a 1440p30 mode equivalent to PC 'high' settings.
It can run at 60fps 1080p with settings equivalent to PC "Medium", we'll probably provide option to toggle between that or 30 FPS 1440p High

— Jeremy Stieglitz (@jeremystieglitz) August 18, 2017