Sledgehammer outlines plan to combat Call of Duty: WW2's worrying online issues
"... we hear you."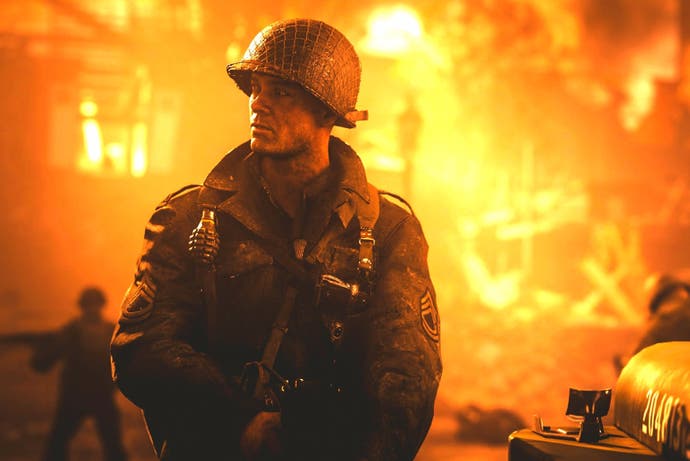 Call of Duty: WW2 came out two weeks ago, and while it's a cracking shooter, performance issues are threatening to derail the game's launch.
Last week we reported on the game's first big update, which fixed some things but broke others.
All the while the game's 48-player social space remains a solo experience - unless you invite friends to join the party.
Now, developer Sledgehammer has issued a blog post addressing the continued complaints about server and disconnect issues, admitting to player frustration and promising a return to normality.
"Thanks everyone for your continued support," the post begins. "It's been a whirlwind since launch. We're seeing millions of fans play every day. However, we also know we've had issues, there's frustration. We recognise that and we hear you."
Sledgehammer goes on to explain what went wrong with the update issued late last week:
"While our previous Game Update which released early Friday solved several critical needs, unfortunately it also had an adverse effect on server performance. As a result, we moved to P2P (listen) servers. Overall, the game is stable, however we know that P2P brings things like Host Migrations and other issues that make for inconsistent gameplay experiences. Our objective to return to dedicated servers is our highest priority."
Speaking of dedicated servers, Sledgehammer said it's testing a solution at the moment and hopes to expand it soon.
In better news, Sledgehammer said it identified the root cause of an issue causing disconnects from the server, lost stats and post-match lobby freezes, and issued a patch to combat this.
It sounds like Headquarters, however, will remain a lonely experience. Sledgehammer said it'll get to sorting the social space, but it's prioritising "the most pressing concerns first".
"Players can still invite friends, which we encourage everyone to try," Sledgehammer said. "But we get it, HQ is best enjoyed with a thriving, fully populated social community interacting together."
And finally, on the PC side of things, Sledgehammer said an update is coming.
"We also want to reinforce our commitment to PC fans. We have the next PC Title Update ready to go, but we believe we need to work through the issues noted above first - many of which also affect PC players. For this reason, we'll wait a bit longer before deploying the patch to the PC in order to ensure everything is the way it needs to be first."
Sledgehammer's post comes amid increasing anger from Call of Duty fans at the state of WW2. The developer - and Activision - will hope it can sort the game's various performance issues out sooner rather than later, or else risk suffering a Halo: The Master Chief Collection-scale disaster.
"This is only the beginning, so thank you for playing," Sledgehammer said. "We won't rest until we resolve everything we can for the community."