Slay the Spire is just £7.50 in the latest Humble Digital Tabletop Bundle
Also includes Armello, For The King, Reigns and more.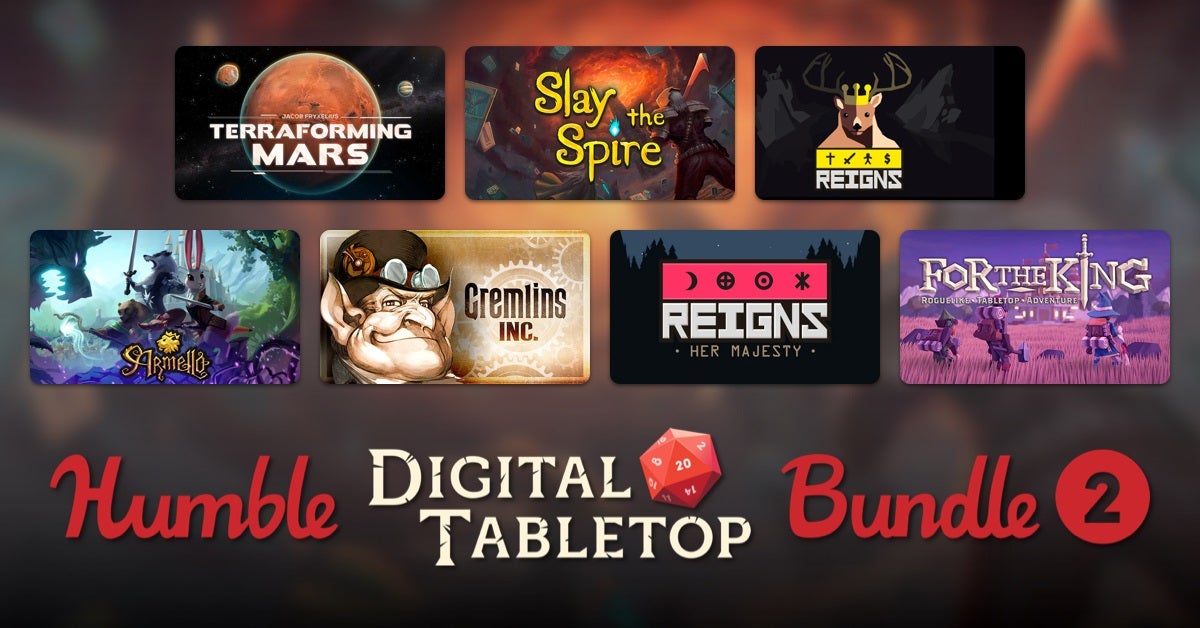 Humble has launched a new Digital Tabletop Bundle featuring some terrific board and card game inspired hits such as Slay the Spire, Armello and Reigns.
As with every other Humble Bundle, you can start off by paying just £1 to get access to everything in the first tier. This time around, that's conniving money-making strategy game Gremlins Inc, as well as the pair of kingdom ruling sims for the Tinder generation in Reigns and Reigns: Her Majesty.
At that price? Swipe right, indeed.
Fork out the average price (currently sitting at £4.88) and you'll also be able to add Terraforming Mars, Armello and For The King to your library. These three are the most board gamey of the lot. The first is simply a direct adaption of the planet modifying strategy game, the second is (for all intents and purposes) a tabletop game brought to life in digital form, while the latter combines elements of the board game with RPGs to create a unique solo or co-op adventure.
But where this bundle gets most interesting is in the final tier where you can get Slay the Spire for only £7.50. Here's a game that combines the deckbuilding elements of something like Clank or Dominion with gaming's most favourite buzzword: the roguelike. The result is truly magnificent - and all for more than half off it's usual £20 price on Steam.
---
After more top gaming offers? You can find loads over at Jelly Deals. Join us to find the best SD card for Nintendo Switch, our picks for the best PS4 external hard drive or where to find the best Xbox Game Pass Ultimate deal.
---
Where Slay the Spire excels is with the inventiveness of its character classes. Each one is given their own unique collection of cards to play with, containing an assortment of different mechanics and strategies to try on your climb to the top. And there's no better feeling than putting together a deck of cards that absolutely trounces anything it comes up against.
Yes, I maybe like Slay the Spire a little too much. Hey, at least I'm not the only massive fan around here!
Anyway, the Humble Digital Tabletop Bundle 2 is live for the next three weeks. You've also still got six days left to get the Humble VR Bundle, should you need something to escape this reality for at least a short while.