Sea of Thieves' next major content update Cursed Sails gets a July release date and trailer
Ghost ships, three-man Brigantine, and more.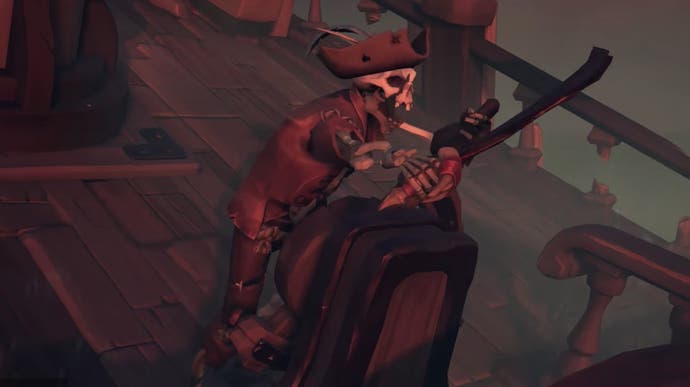 Rare has announced that Sea of Thieves' second major content update, Cursed Sails, will release for PC and Xbox One on July 31st - and there's a brand-new trailer to accompany the news.
Cursed Sails brings significant additions to Rare's swashbuckling multiplayer pirate adventure, some of which the developer has shared in its latest blog post. Top of the list is a new roaming AI threat in the form of "fortress-like" ghost ships manned by literal skeleton crews - which, judging by the new trailer below, will haunt the Sea of Thieves by bursting up from the depths of the ocean, ready to unleash hell.
"All that sustains these grinning terrors," says Rare, "is a thirst for battle that leads them to terrorise Outposts and call out defenders to face them on the tides...". That line about Outposts is especially intriguing; if skeleton crews have, say, the ability to lock-down the game's safe zones until defeated, that's going to make turning in treasure a particularly fraught endeavour.
Elsewhere, Cursed Sails introduces a third ship type to Sea of Thieves; Galleons and Sloops are now joined by the new Brigantine, which is specifically designed to comfortably accommodate crews of up to three people. Additionally, the update will bring a new Alliance system, which, Rare says, "encourages the formation of fleets united under a single cause, ready to tackle greater challenges and share the rewards."
It sounds like this is intended to remedy the issue whereby pirates that have already completed multi-crew tasks currently have no incentive to repeat them and help others.
Rare has also teased Cursed Sails' story, which will apparently revolve around the ocean's shopkeepers. "A tale of ambition and greed escalating into something truly terrible will come to light in Cursed Sails," it says, offering further hints in its latest community newsletter.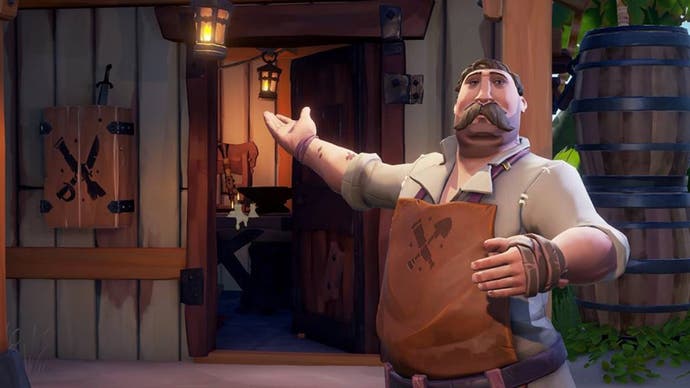 "Many long-time wanderers on the Sea of Thieves will remember Salty," the tale goes, "one of the first entrepreneurs to set up shop at an Outpost. He informs the Pirate Times that after many months spent seeking a 'killer' item to sell, he's found something special that will surprise new and old customers alike. Salty even has a new business partner, but is keeping details quiet until it's time to make a splash."
Could this be related to the strange affliction that, as fans recently spotted, seems to have befallen Golden Sands' merchant Wanda? And might it have something to do with the influx of mysterious, deadly mermaid statues in the current Sunken Curse limited-time event?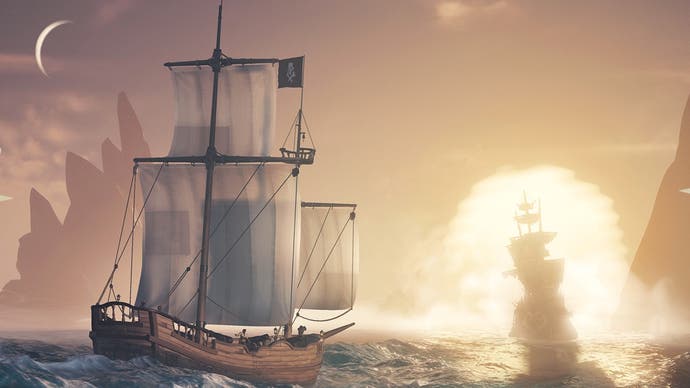 Rare notes that, as was the case with May's The Hungering Deep, Cursed Sails' limited-time story campaign will include special in-game rewards. And although the campaign and rewards won't stick around once the event ends, all other core elements - such as the new ghost ship AI threat, Brigantine, and Alliance system - will become a permanent part of Sea of Thieves.
Cursed Sails is the second of six major content updates planned for 2018, with the next, Forsaken Shores, scheduled to arrive in September. It sounds like we'll get a few more specifics as Cursed Sails' July 31st launch approaches.