Scott Pilgrim vs. the World's Online Multiplayer + Wallace DLC is actually coming out this week
For reals this time.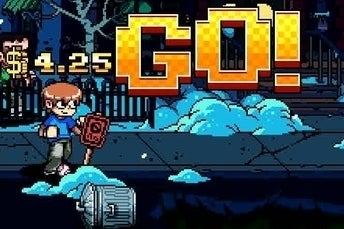 After three delays the Scott Pilgrim vs. the World DLC that would add online co-op and the ability to play as Scott's sardonic roommate Wallace is finally coming out this Tuesday in North America and Wednesday in Europe on PSN where it will cost £3.99 / €4.99 / $4.99.
The DLC was finally officially given a release date by Ubisoft producer Guillaume Gad on the PlayStation Blog. Xbox Live community man Larry "Major Nelson" Hryb tweeted about the DLC coming out on the 12th too (thanks, EG commenter Gun-Nut).
The Scott Pilgrim DLC was originally announced to come out two years after the digitally released game that launched in August 2010. It was then delayed three times.
Sony noted that PlayStation Plus members will be able to purchase the Scott Pilgrim DLC - or the updated Ultimate Edition of the full game - for 20 per cent off during its first two weeks.
See the new content in action in the Online Multiplayer + Wallace Pack trailer below.