Rihanna gets dressed in Hitman: Absolution clothing
Does it suit?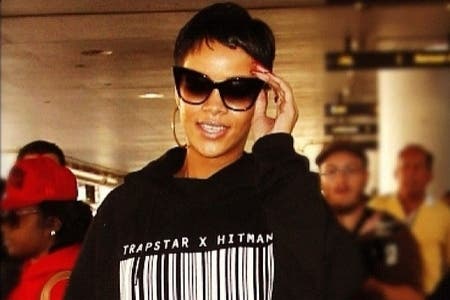 R&B star Rihanna has been "spotted" dressed in Hitman: Absolution branded clothing.
The "Umbrella" and "Don't Stop the Music" singer was pictured wearing various items of Hitman: Absolution attire, soon to be available from London-based clothing label Trapstar.
Square Enix trumpeted the news today, mentioning that Rihanna's fave range will be available to buy from Trapstar's flagship store on 20th November. Oh, that's Hitman: Absolution's release date!
Why Rihanna? Who knows! But actual Rihanna-worn Hitman: Absolution clothes will probably not be available.
The t-shirts, tops and jackets feature various Hitman logos and designs.
"Hitman: Absolution is one of the coolest entertainment brands around and Agent 47 is always dressed to kill, so working with Trapstar seemed the perfect fit," said brand and UK marketing director of Square Enix, Jon Brooke.
"Being given the chance to work with Square Enix on the Hitman: Absolution project has the makings of an epic collaboration," piped up Trapstar co-founder Mikey Trapstar. "It gives Trapstar the opportunity to be experimentally playful with the clothing and unleash darker imagery".
Below lies an Instagram picture from Hitman: Absolution director Tore Blystad. Great use of blur!