Retailer-exclusive Mass Effect 3 items detailed
Origin, GameStop offer in-game extras.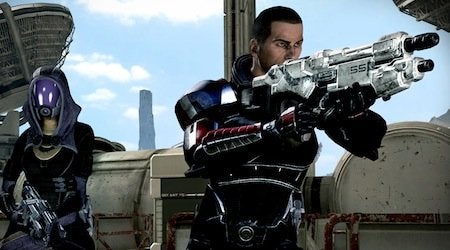 A handful of retailer-exclusive Mass Effect 3 items have been announced.
According to GameInformer, purchase the PC version through EA's own Origin store and you'll snag the AT-12 Raider Shotgun.
"The AT-12 Raider Shotgun fires a large pellet spread, ensuring maximum coverage for close-range targets. Designed for superior rapid fire, the AT-12 allows for optimal recovery time between shot," states the announcement.
Customers who pre-order through GameStop get the N7 Valkyrie Assault Rifle and N7 Defender Armor.
The former is "exceptionally well-crafted, accurate, and packing ample firepower" and "a hot black-market item on the rare occasion it surfaces," while the latter "is a variation on the N7 Special Forces' combat gear, built to protect soldiers in long-running engagements where reinforcements may be sparse."
The third entry in BioWare's sci-fi RPG is due out on PC, PlayStation 3 and Xbox 360 from 9th March.