Resident Evil 4 Remake's merchant is hardier than he used to be
Slay away from him.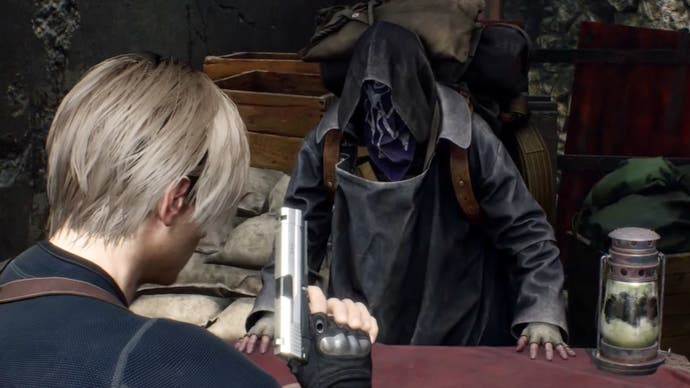 If you had been hoping to jump into the Resident Evil 4 Remake later today and lay siege on the game's merchant, well, you can't.
Yes, that's right. Unlike in the original Resi 4 release, the remake's merchant is an indestructible force, and just cannot be killed.
Back in the day, some players (naming no names) would shoot and slice at Resi 4's cloaked salesman. However, this time around, I guess Capcom didn't want the same fate to befall its enigmatic character any more.
So, in the remake, the developer has made it impossible for players to aim Leon's gun at the merchant.
As shown in a video by GameXplain (via Kotaku), Leon will instead lower his gun when a player tries to take aim at the merchant. You can see how this looks in the video below.
Whaddaya' slayin? Well, it ain't him, so best save your ammo for the things that really matter. You know, like El Gigante.
Eurogamer recently awarded the Resident Evil 4 Remake with a Recommended badge, stating it's "about as good as remakes get".
"Resident Evil 4 Remake... [displays] a confidence in both the original game's strengths and its own innovations to deliver something that feels at once intimately familiar to old fans and excitingly fresh for newcomers," Aoife wrote in her review.
Meanwhile, earlier today Capcom announced the Resident Evil 4 remake's The Mercenaries mode will launch on 7th April as free DLC.