Resident Evil 3 remake releases April 2020
Includes Project Resistance as its multiplayer mode.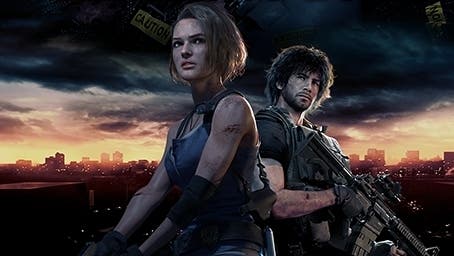 The Resident Evil 3 remake has finally been revealed by Capcom, and it'll be releasing on 3rd April.
Although the remake was leaked through a PlayStation Store listing earlier this month, the official trailer for Resident Evil 3 debuted today at Sony's State of Play presentation.
The announcement also confirmed Capcom's spin-off game Project Resistance is actually Resident Evil 3's multiplayer mode. It's now simply named Resident Evil Resistance. Surprise!
People were poking fun at Nemesis' nose and teeth last week, but now we can catch a glimpse of Umbrella's monstrosity in action. It'll be pursuing you throughout the game, Mr. X-style.
Squaring off against Nemmy will be a redesigned Jill Valentine and Carlos Oliveira, the latter of which has a fantastic new hairdo. You'll be playing as both characters in the remake, similar to how Leon and Claire functioned as dual protagonists in Resident Evil 2.
There's an additional developer message from Capcom below, featuring some brief glimpses of new gameplay featuring Jill.
The Resident Evil 3 remake releases for PC, PS4, and Xbox One.