Remember EA's Rocket Arena? It's free with Amazon Prime Gaming
Refuel.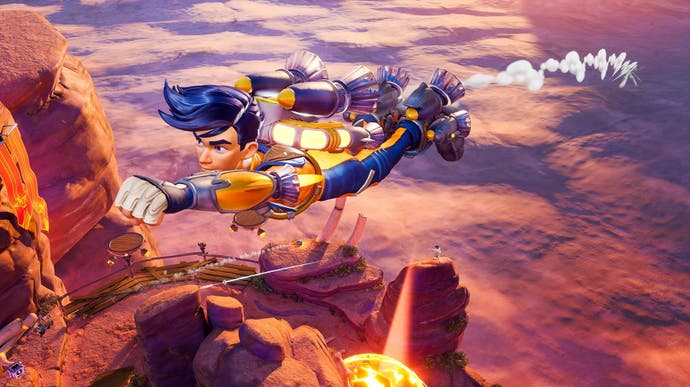 Rocket Arena, EA's colourful competitive multiplayer shooter, launched in July with barely a fizzle. And what looked like a game that should have been free-to-play at launch is now pretty much there - it's free to claim with Amazon Prime Gaming.
Of note: this is the full game for PC on Origin, EA's digital platform. You're not getting a Steam key.
While Rocket Arena was well-received, it struggled to get any attention in the crowded team-based shooter market, and its premium price-point plummeted soon after launch. According to Steam Charts, Rocket Arena's 30-day average concurrent player count is just 71. No wonder fans are struggling to get games.
Now, fans are calling on EA to make it free-to-play in a bid to increase the playerbase - it's do that, some fans reckon, or Rocket Arena is dead. Perhaps it already is. Currently, Rocket Arena is free with an EA Play subscription, which costs £3.99 a month (EA Play is coming to Xbox Game Pass Ultimate and Xbox Game Pass for PC soon). Or you can buy the game for four quid.
It feels like Rocket Arena needs some serious refueling if it's to avoid going the way of the likes of Lawbreakers or Battleborn. It'll be interesting to see what EA does next with it.