Rayman Raving Rabbids and Fuel get Xbox One backward compatibility support today
As does Battlestations: Pacific.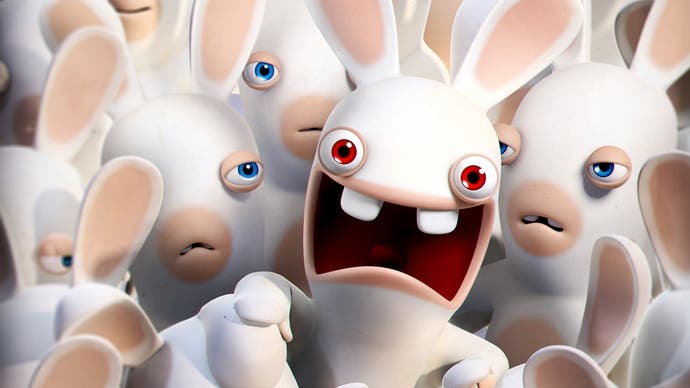 Another day, another small but satisfying gathering of Xbox 360 titles to add to Microsoft's ever-growing list of games with Xbox One backward compatibility support: and this time it's the turn of Rayman Raving Rabbids, Fuel, and Battlestations: Pacific.
Clearly these aren't quite as high-profile as some of Microsoft's past efforts, but it's a diverse, decently entertaining selection, nonetheless. Rayman Raving Rabbids, for instance, which released on Xbox 360 in 2007, marked the debut of Ubisoft's ever-divisive loudmouthed furballs, the Rabbids (basically the Minions before the Minions were a thing) - seen to great effect in 2017's wonderful Mario + Rabbids Kingdom Battle on Switch.
Rayman Raving Rabbids is a collection of 75 mini-games featuring plenty of humour and polish. And while the Xbox 360 version lacks the amusingly silly motion controls seen in the original Wii edition, there's still some fun to be had. Eurogamer contributor Keza McDonald called the Wii game "lively, inventive and fun" in her 7/10 review, noting that while "it doesn't have any depth to speak of, [it] has a genuine sense of humour, a quality few games can boast".
Fuel, meanwhile, didn't manage to impress quite so much when it released in 2009. Asobo Studio's post-apocalyptic open-world racer earned a 5/10 from Tom Bramwell at the time. "Of Fuel's many promises, too many are either broken or undermined by its handling, layouts, logic or interface shortcuts," he said in his review, "There's no denying Asobo's achievement in building such a daring, beautiful landscape on such a vast scale, but the core of any good racing game is falling in love with its vehicles, the things you can do with them, and the places you can take them, and by that measure Fuel is distinctly average."
Lastly then, is Battlestations: Pacific, the 2009 follow-up to real-time strategy shooter Battlestations: Midway. Pacific made substantial improvements over its predecessor, fleshing out the campaign and beefing up its multiplayer offering. And while its unevenness ultimately earned it a Eurogamer 7/10, there was still plenty to praise.
"It's an often clumsy and over-ambitious enterprise, one that can wow you with a pirouette and then slip over on a banana skin in the same mission," said reviewer Dan Whitehead, "but the pleasures it does offer are enhanced by the knowledge that it's still the only game offering them. For all the dozens of gritty, growly WW2 shooters, this is still the only one that seems interested in the fascinating and unique challenges of naval command. It may not deliver those challenges with the aplomb and polish you'd hope, but it's hard to begrudge the attempt."
If you've an original Xbox 360 disc copy of any of the above games, you just need to pop it in your Xbox One for backward-compatibility support to kick in. Alternatively, all three are available to download digitally on the Microsoft Store. Rayman Raving Rabbids is £8.99/$19.99 USD, Battlestations: Pacific is £19.99/$24.99 USD, and Fuel is £8.99/$9.99 USD.