Rare shares more details on next week's big Sea of Thieves Cursed Sails update
Evolving story, weekly challenges, more.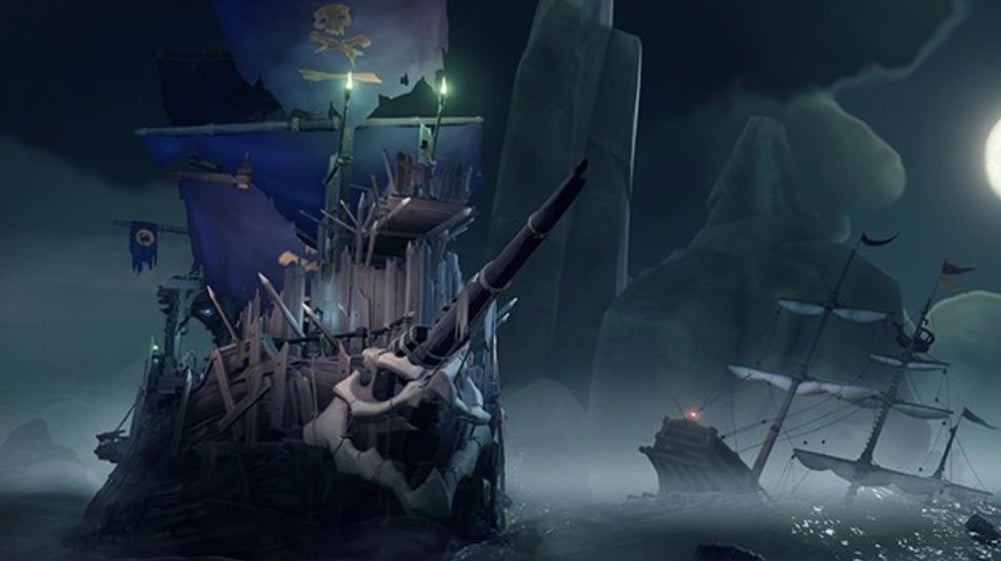 Sea of Thieves' second big content update Cursed Sails is coming next week, July 31st - and in the run up to its arrival, Rare has taken some time to more thoroughly reveal the piratical splendours within.
The big stuff, of course, has been detailed before: that's the new skeleton ships AI threat, a co-operative inter-crew Alliance system, and the three-man Brigantine ship - the latter of which, as Rare explained in its latest developer video, is designed to offer a balance between speed, manoeuvrability and weapon power, and makes for a "nice introduction to the world".
There's plenty more besides Cursed Sails' core offerings, however. For starters, the update will unfold as a three week event, combining lore elements, challenges, and a variety of rewards. Unlike May's Hungering Deep update though, whose brisk story portion felt rather halfhearted, Cursed Sails' narrative will unfold gradually, with new things to do and earn each week.
Here's how Rare is pitching the story side of things: "The arrival of skeleton ships has all but blockaded the Outposts, leaving the local traders in a tight spot. Something caused this new and personal threat to the pirate way of life, so why not ask your friendly, local Bilge Rat in the tavern if he's heard any rumours? In this time-limited campaign, investigate the tale of a missing merchant and uncover the origins of the undead armada to unlock unique rewards!".
Incidentally, Rare also notes that Outpost shopkeepers will be dropping their prices on goods from next week (whether this is temporary or otherwise, the developer doesn't say), so pirates might want to avoid making extravagant purchases for now.
Cursed Sails also introduces new Hunter outfits and equipment, and a whole range of skeleton-inspired accessories, including belts, boots, shovels, and drums. Elsewhere, there are skeleton sails, livery, a figurehead, and flag for your boat (as well as a particularly fancy new cosmetic ship set for Legendary pirates), plus new hair, clothing, tattoos, and scars.
There are also fetching new ship sails themed around each of Sea of Thieves' distinct regions, which appear to be linked to the skeleton-ship-battling portion of Cursed Sails. As Rare puts it, "Pirate dominion over the waters is being challenged by crews of skeletons, united by their warped desire for vengeance on the living. Each region will be called out, so prepare to fight to protect your favourite Outposts!"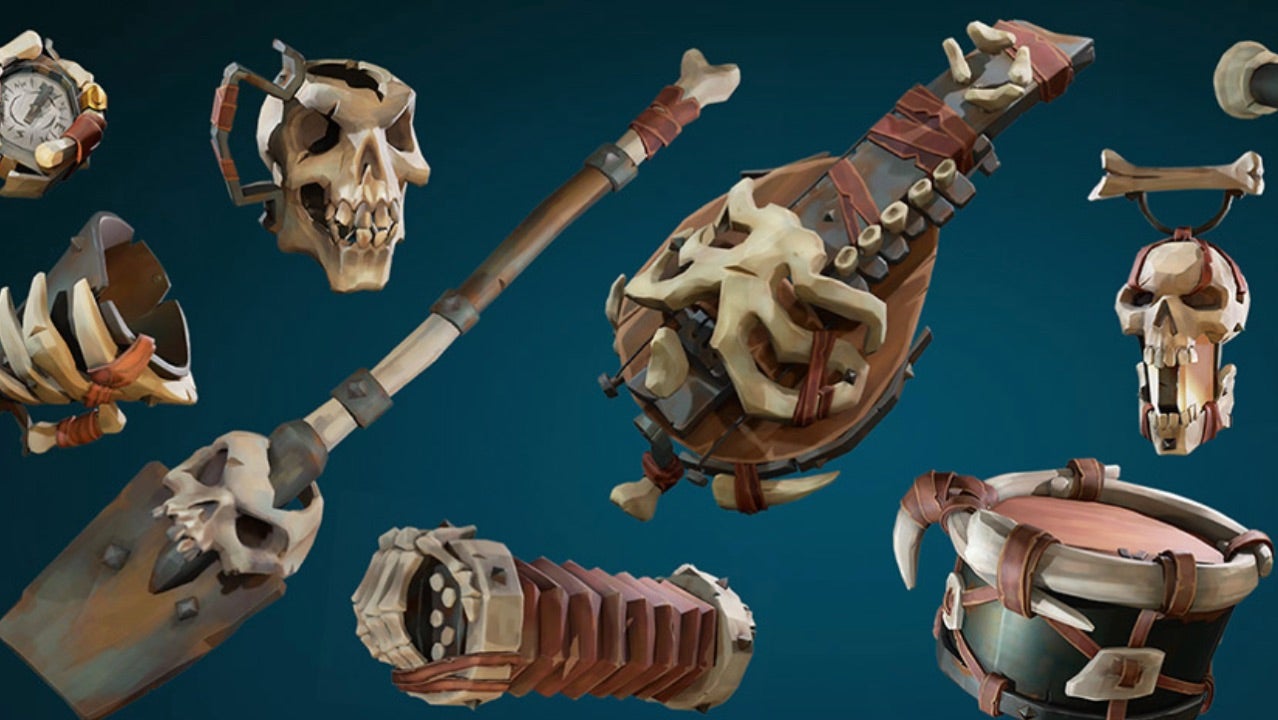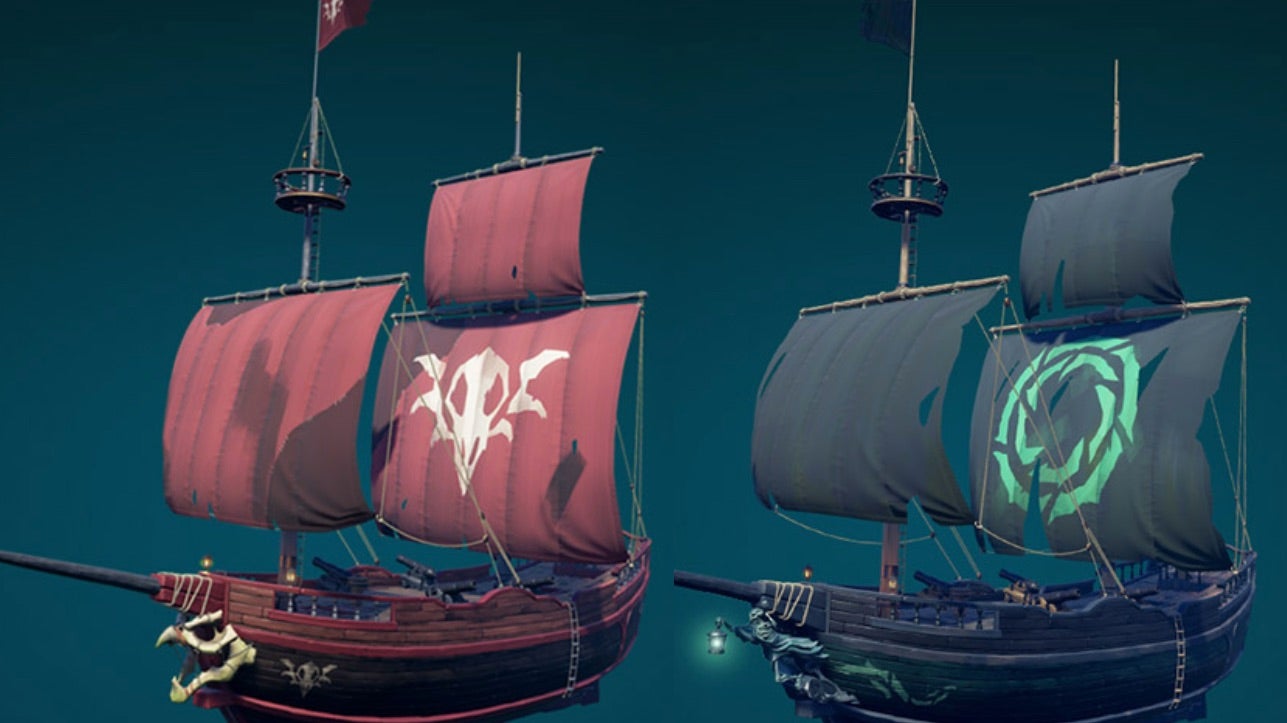 Once Cursed Sails' three week run is up, the vast majority of its additions will remain in-game. However, Rare notes that its set sea battles and investigative story portions will be gone, with skeleton ships instead becoming a permanent roaming AI threat. Additionally, after the limited-time event ends, it will no longer be possible to earn the non-Legendary skeleton-themed ship decorations, skeleton scar, and special region sails.
Cursed Sails will be followed in September by a third big Sea of Thieves content update, in the form of Forsaken Shores. This adds a hellish new region to explore beyond the deadly Devil's Shroud that surrounds the existing map, and will require the use of new rowboats. Three more large content updates are also scheduled to arrive before the end of the year.