Rare dates and details Sea of Thieves' big Forsaken Shores content update
UPDATE: Now with in-game footage.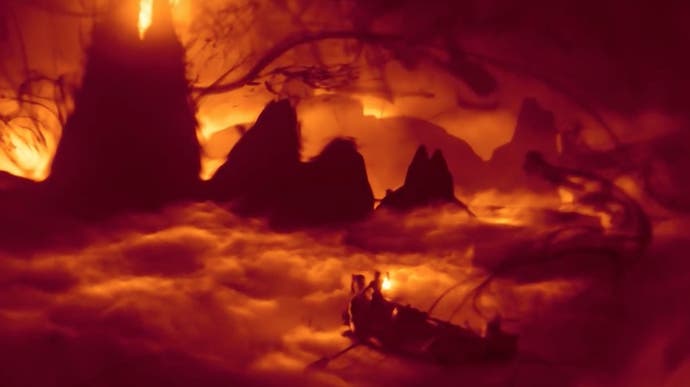 UPDATE 22/8/18: For the benefit of those that missed yesterday's special Gamescom edition of Inside Xbox, Rare has released a new developer video packaging up all of the details it shared regarding Sea of Thieves' next big, free content update, Forsaken Shores.
It's definitely worth a watch if you haven't yet seen where your piratical escapades may lead you next, with the video showcasing some brief gameplay footage (around the 2:40 mark) of Sea of Thieves' perilous new Devil's Roar biome - complete with spectacular volcanic activity - that comes to Xbox One and PC as part of the Forsaken Shores update on September 19th.
---
ORIGINAL STORY 21/8/18: As part of today's Inside Xbox livestream, Rare has detailed Sea of Thieves' next major content update, Forsaken Shores, which comes to Xbox One and PC on September 19th.
Forsaken Shores' most significant addition is its perilous new biome, known as the Devil's Roar. Pirates brave enough to explore this deadly stretch of ocean will find islands positively quaking with volcanic activity. As you explore the new area, volcanic eruptions are a constant risk, and you'll need to use the environment wisely to escape their ire.
Caves offer some respite, but you'll need to deal with falling rocks and steaming geysers out in the open - and even the ocean itself can prove fatal, as the water becomes superheated during eruptions. Thankfully, Forsaken Shores' new rowboats make it easier to traverse the Devil's Roar, and get your treasure back to your ship without fear of incinerating your toes.
Elsewhere, Forsaken Shores will introduce a new form of Merchant Alliance quest, known as Cargo Runs. Unlike current merchant missions, which task you with locating items out at sea to deliver elsewhere, Cargo Runs simply require you to transport a set of items from one NPC (presumably an Outpost merchant) to another location.
However, the difficulty lies in the nature of the items you're asked to shift around the world. Bottles of rum, for instance, are extremely delicate - and if they're damaged in transit (during a battle, for instance), they won't net you as much on delivery. Similarly, you might be asked to move expensive cloth which mustn't get wet - so you'll want to avoid rain or a leaky boat - and plants which, conversely, do require water. Of course, nefarious players can thwart merchants' deliveries by deliberately tampering with goods that they find.
Prior to Forsaken Shores' arrival, Sea of Thieves will host its next limited-time Bilge Rat Adventure, Cursed Crews, which launches once the current Cursed Sails campaign ends. Cursed Crews will finally let players get their hands on skeleton fleets' cursed cannonballs - which, on impact, do everything from blocking a ship's supply barrels to forcing nearby pirates to dance - and features an upgraded inventory system to support the additions.
Also incoming is a new Reaper's Mark flag which, rather brilliantly, highlights your ship's position on everyone's map. You could use this to summon boats to your position if you're looking to form an alliance, but it's more likely intended for those itching for a fight.
Rare's Forsaken Shores update, the third of six big Sea of Thieves content updates planned to release this year, comes to PC and Xbox One on September 19th - which, coincidentally enough, is International Talk Like A Pirate Day.