Rare outlines next few months of content updates for Sea of Thieves
New ship, biome, and mysterious "AI threats".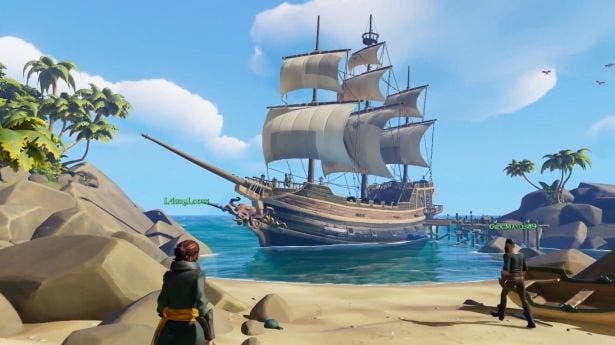 Rare has, after much reasonable clamouring from the community, offered first details on the new content coming to its marvellous piratical multiplayer playground Sea of Thieves over the next few months.
You should perhaps calm your immediate expectations; the studio's focus for the remainder of April, it says in a new post on the Sea of Thieves website, will continue to be on "addressing the top feedback points" from the community. However, that focus will shift toward releasing new content as it moves into May.
Explaining the rationale behind its new content plans, Rare says it wants to prioritise elements that bring players together and encourage different players encounters, that enrich the world of Sea of Thieves, and that offer new ways to play, alongside additional goals and rewards. It also plans to broaden the journey to Pirate Legend and beyond.
To that end, Rare's first content update, known as The Hungering Deep and due to arrive in May, will introduce a new AI threat that requires crews "to work together to discover and defeat". The update will also add a new item, new mechanics, and unique awards.
Whether this threat is an evolution of the game's currently-slightly-underwhelming kraken battle or an entirely new AI peril (is the whale-like creature shown on the map in Rare's accompanying video above a clue?) remains to be seen.
Additionally, May will see the launch of Rare's live events schedule, which will introduce new mechanics "and give players fun new ways to play with weekly events and rewards". Potential examples given in Rare's video include cursed cannonballs, and skeleton thrones hidden in hard-to-reach areas on the map.
Rare has also shared details of its next two content updates planned after May, currently expected "in the summer months".
One, known as Foresaken Shores, will enable players to explore "a perilous new part of the world" with a related AI threat, while Cursed Sails will add yet another new AI threat (if that name's a hint, an eerie ghost ship, perhaps?) alongside a new player ship type.
There have been countless requests from the community for the introduction of a three-man ship, balanced somewhere between the current two-man sloop and four-man galleon, as well as ships for six players and above - so it'll be interesting to see what Rare has in store.
The studio notes that these summer updates will also add "new gameplay mechanics for players, new AI threats to challenge and new unique rewards to claim". Three more large-scale updates are planned for autumn and winter, and all will be free.
One potential source of disappointment in Rare's latest blog post is the news that some previously teased content is now delayed.
The studio says it has specifically refocussed its development based on current community feedback, and, as a result, pets and Ship Captaincy - one a purely cosmetic addition and the other, seemingly, late-game content - are "on the back burner for now".
Additional details, and the thinking behind Rare's revised content plans, can be found in the accompanying video above. It all sounds lovely Rare, but could we please get a couple of tricorns added to the clothes shop while we wait?