Peter Molyneux exits Microsoft, Lionhead
Joins new company 22 Cans.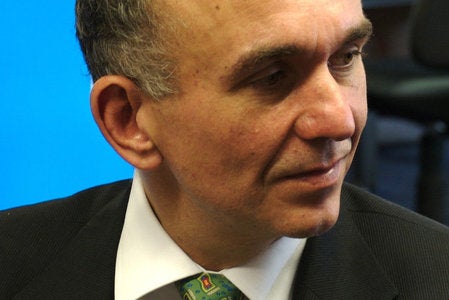 Peter Molyneux, creator of Populous, Black & White and Magic Carpet, has left Microsoft and the studio he co-founded, Lionhead.
"It is with mixed emotions that I made the decision to leave Microsoft and Lionhead Studios, the company that I co-founded in 1997, at the conclusion of development of Fable: The Journey," Molyneux said in a statement issued to Eurogamer by Microsoft.
"I remain extremely passionate and proud of the people, products and experiences that we created, from Black & White to Fable to our pioneering work with Milo and Kate for the Kinect platform.
"However, I felt the time was right to pursue a new independent venture. I'd like to thank the team at Lionhead, as well as our partners at Microsoft Studios for their support, dedication and incredible work over the years."
Molyneux was a high-ranking executive at Microsoft Studios Europe as well as the boss of Lionhead, which will now be run by co-founder Mark Webley. He will continue to work on Fable: The Journey, due out later this year, on a consultancy basis.
Molyneux has joined a new Guildford-based company called 22 Cans, a venture he described on Twitter as "something really amazing, scary and brave".
22 Cans was founded by former Lionhead chief technical officer Tim Rance, who left the studio in January.
Microsoft responded to Molyneux's departure with its own statement, issued to Eurogamer: "Lionhead Studios Founder and pioneer game developer Peter Molyneux has made the decision to leave Microsoft. While his decision was a difficult one, he felt the time was right to pursue a new independent venture.
"As a co-founder of Lionhead and an integral part of Microsoft Studios, Peter was the creative visionary behind the blockbuster 'Fable' franchise and one of our most passionate and influential developers for the Xbox 360 platform.
"He has made an indelible mark on the games industry and we wish him all the best of luck in his future endeavours. Lionhead co-founder Mark Webley will assume the role of studio manager, while Peter wil remain a creative consultant on Fable: The Journey. The development of Fable: The Journey remains on track to be one of the year's most anticipated Kinect for Xbox 360 titles."
Molyneux's exit comes after a number of high-ranking Lionhead staff responsible for the Fable franchise left the developer to form their own studio, Another Place Productions.
Fable franchise art director John McCormack, technical director Guillaume Portes and executive producer Jeremie Texier all recently departed the Microsoft-owned studio to help found the new start-up.
These three veterans are lead by Dene and Simon Carter, the creators of Fable whose studio Big Blue Box was acquired by Lionhead and Microsoft.