PES 2018 is definitely not coming to Switch
But Konami's up for future games being ported if fans are keen.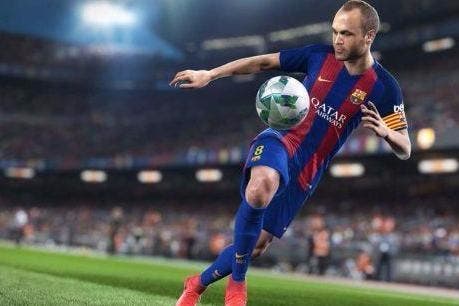 While the world wondered whether the Switch's FIFA was going to be the real deal or not, there's a slightly more definitive answer when it comes to that other long-running football series. Pro Evolution Soccer 2018 is not coming to Nintendo's Switch, Konami has confirmed - though it is open to the idea in future.
"One thing that I will say about the Switch is, we're getting asked that quite a lot," said global product and brand manager Adam Bhatti. "The fact is, we've announced all the platforms that PES 2018 is coming to. But as I've been saying to a lot of people, we have a great relationship with Nintendo - we've obviously brought out Bomberman which has done fantastic for the Switch. So as a company it's a platform that we're looking at, for sure. So for PES it's just - we never want to say no, we never want to close the door. Let's see how it goes. Personally speaking, I love the machine. We think it's definitely performed amazingly well. And we really hope that it continues to do very well."
Pro Evolution Soccer 2018's assistant producer Kei Masuda added a little more. "We always like to hear what the fans think as well, depending on the amount of reactions we get then we definitely would like to look into it."
Pro Evolution Soccer has had a patchy past with Nintendo in recent years, with an impressive bespoke version for the Wii as well as three entries for the 3DS while the Wii U saw no support. Given the success of Nintendo's Switch, here's hoping Konami sends the PES series its way sooner rather than later. We'll have more on this year's PES for you next week.
Additional reporting by Chris Schilling