Persona 4: Golden release date set for November in NA, spring in EU
Not region-locked. You can now explore the town at night.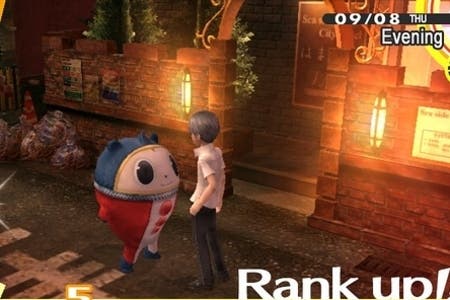 Persona 4: Golden - the enhanced Vita version of 2008's cult-favourite dungeon-crawling RPG/high school sim - is coming to North America on 20th November, publisher Atlus has announced on the US PlayStation Blog.
Furthermore, it won't be region-locked. So import away!
But if you don't fancy paying import fees or reading words with fewer "u"s, you'll be delighted to hear that NIS America is bringing it to Europe next spring.
Persona 4: Golden is currently the best-selling Vita game of all-time in Japan and Atlus detailed several of its enhancements since its PS2 version. These include:
The freedom to explore the town at night. Every conversation that occurs during this nocturnal phase is all new. You'll even be able to take night jobs.
New Very Easy and Very Hard difficulty settings have been added to bookend the previous Easy, Normal and Hard modes.
You'll also be able to speed through dialogue and cutscenes. After all, the game has a lot of talking, and many players will have already played the PS2 game.
Load times are significantly reduced to no more than three seconds.
The fishing mini-game has been expanded with new types of fish at night.
Sadly, there won't be a Japanese language option. "Only English text and an English dub are available," said Atlus manager of public relations and sales Aram Jabbari. "We are very aware of many fans' interest in dual language audio, but it is not possible in every project."
He also noted that the snazzy Solid Gold Premium Edition "is just about entirely spoken for via pre-order," and only 10,000 were ever produced. "Demand was, simply put, overwhelming," Jabbari added.
When a Canadian gamer asked when the Special Edition would hit their country Jabbari had to explain, "Sales occurred so quickly that pre-orders were never activated in stores; all copies were claimed via online orders." Poor Canada.