PC game FlatOut 3: Chaos & Destruction released next week
Not developed by series creator Bugbear.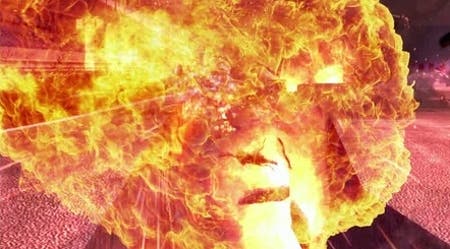 FlatOut 3: Chaos & Destruction is a PC exclusive with a release date of 13th December - Tuesday next week.
You can pre-order the game for £22.49 on Steam, if you wish. There's a FlatOut Complete Pack on offer, too, that saves you £19.
FlatOut 3 hasn't been made by FlatOut series creator Bugbear. Publisher Strategy First has instead employed Dutch developer Team6 to do the honours.
Team6 has had no notable successes, but has a considerable portfolio of mainly Wii and some PC games.
FlatOut 3 does what FlatOut does best: off-road racing with car destruction physics. That core remains.
FlatOut 3 boasts a wacky array of vehicles, from tanks to bulldozers, and from muscle cars to monster trucks. There are 47 in all.
Can you count to 20,000? Because that's how many things can be destroyed on each track, apparently. One, two, three, four, I give up.
There's the nine game modes, 10 racing environments, nine Destruction Derby battle arenas, eight multiplayer modes that support 16 players, force feedback with steering wheels and new modes Monster Truck, Nightshift, Off Road and Speed.
FlatOut 3 uses Steamworks and works with PS Move-like Razer Hydra Controller.
FlatOut: Ultimate Carnage was the last full-scale release in the series in 2007. Was rather good, too: "FlatOut: Ultimate Carnage isn't perfect, and doesn't quite live up to its promise; but it's sitting on the doorstep of absolute, legendary greatness," concluded Eurogamer FlatOut: Ultimate Carnage reviewer Rob Fahey.
"Everyone with a spark in their soul for high speed, ultra-destructive fun should play this game, and cross their fingers that just that tiny bit of extra care can be lavished on the next game in the series."