Only Modern Warfare 3 made more money than Skyrim in 2011
Skyrim trumped platform exclusives on PS3, Xbox 360.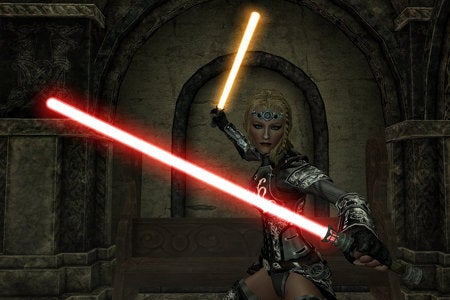 No exclusive PS3 or Xbox 360 game sold more copies than Bethesda's formidable open world fantasy romp Skyrim last year.
No, not Gears of War 3 on Xbox 360 (in North America); and no, not Uncharted 3: Drake's Deception on PS3.
On PC, Skyrim outsold all other PC games 3:1 during November, and is Steam's fastest ever selling game.
In terms of money made worldwide, Skyrim was the second most successful game of 2011. Only Modern Warfare 3 will have finished higher, which puts Skyrim ahead of even FIFA 12 and Battlefield 3.
Who said fantasy RPGs were the pursuit of lonely nerds? They're not any more, although for fellow RPG makers this is both a boon and burden.
Bethesda had shipped more than 10 million copies of Skyrim within the game's first month on sale.
With quantities like that, it's no wonder the Creation Kit toolset has been popular on PC. More than 2500 free, user-created mods were made within three days of the Creation Kit launching, and more than 2 million separate mods have been downloaded.
No specific, Bethesda-made DLC has been announced for Skyrim, although we do know it will be released as a timed-exclusive for Xbox 360.