Non-VR Eve: Valkyrie launching September with cross-reality play
A Norse touch.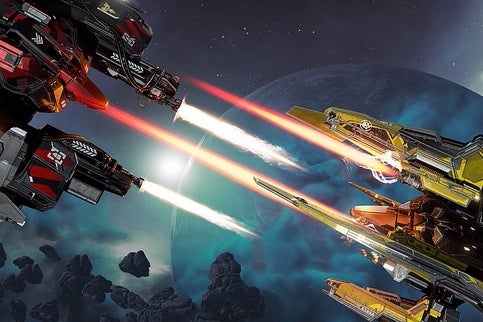 Here's an exotic new gaming term: cross-reality. Sounds exciting doesn't it? It was used to refer to Eve: Valkyrie, the multiplayer spaceship dogfighting virtual reality game, which, as of 26th September, is inviting a non-VR audience in.
It means non-VR Eve: Valkyrie players on PC and PS4 will be able to play both with and against people using PlayStation VR, Oculus Rift or HTC Vive.
The cross-reality launch coincides with the arrival of an expansion for Eve: Valkyrie, which is so significant the game's name is changing to Eve: Valkyrie - Warzone. The expansion will be free to all existing owners of Eve: Valkyrie - $29.99 to everyone else - and replace the base game.
Warzone brings a new fleet of ships to play with, including a Covert-class ship called the Shadow. There are new weapons, new ultimates and a redesigned progression system. Warzone also introduces a new Extraction game mode, which is basically capture the flag in space, plus two new maps, Fleet and Outpost. Last but not least, Warzone brings loot boxes - Loot Capsules - to unlock customisation options for your hangar and pilot.
Eve: Valkyrie is a visually flashy and fast dogfighting arena battle set against the backdrop of Eve's iconic space. Valkyrie was a bit thin on content a year ago but the months of updates, and this expansion, should remedy that.
Eve maker CCP has another VR game in development, called Project Sparc, a kind of futuristic dodgeball set in a hallway. It's a game that uses your full body for the experience - no more sitting down. Martin Robinson was impressed by Project Sparc in his preview earlier this year. "There's something deliciously new at its core, however, that deserves to be sampled by all," he wrote.