Nintendo launches £84 vouchers for two Switch games
If you're a Switch Online subscriber.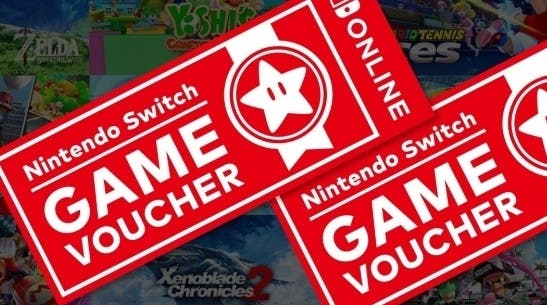 Nintendo Switch Game Vouchers are a new £84 offer available to redeem for two digital games.
The idea is that £84 is actually cheaper than the combined price of two games bought from the Switch eShop separately - meaning a saving for you.
Around 30 games are in the scheme, including all of Nintendo's big first-party hits. The vast majority have £49.99 price tags - so you would save around £16 when purchasing a couple of these with Game Vouchers.
Super Smash Bros. Ultimate and Zelda: Breath of the Wild are each £59.99, meanwhile, so in the unlikely event you don't have them already this would mean even bigger savings.
But a handful of other games in the scheme are £39.99. Buy two of these with your £84 Game Voucher and you'll lose money. Don't do this.
How useful the scheme is - and, by the way, it's only available to Nintendo Switch Online subscribers - will likely depend on your buying habits. There are savings to be had if you want to build a digital library and are able to plan your purchases. And it's worth noting you have 12 months to redeem vouchers on both games, which can be bought separate from each other.
But Nintendo's digital pricing is more expensive to start off with - so the margin you're saving is likely the same you'd knock off if you picked up a physical copy via Amazon.
Let's take recent Switch exclusive New Super Mario Bros. U (£49.99 digital via the eShop, £39.99 physical via Amazon) and a pre-order for the upcoming Super Mario Maker 2 (£49.99 eShop, £39.99 physical via Amazon). Buying the pair from the eShop separately would cost £99.98, so you'd save £15.98 with a £84 Game Voucher.
Or you could buy both physically via Amazon for £79.98, which would make the Game Voucher £4 more expensive.
Is it worth it to bring Nintendo's eShop pricing at least a little more in line with that of a boxed copy? It's your call.