NieR: Automata gets an all new gameplay trailer for E3
UPDATE: 15 minutes of new gameplay reveals robots with their head on their crotch.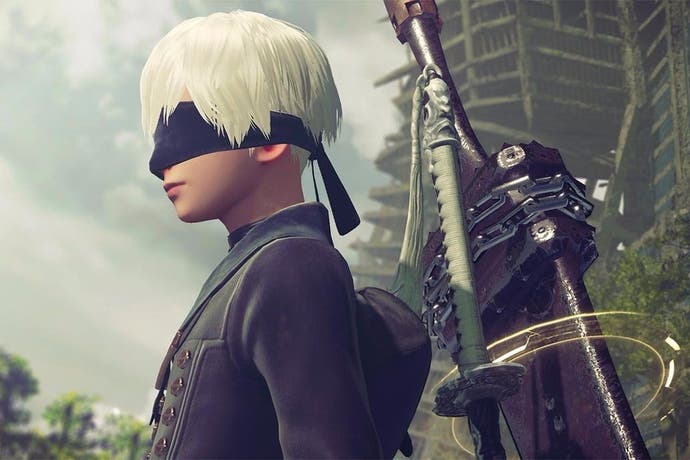 UPDATE 23/06/2015 2.30am: We have unearthed an additional 15 minutes of gameplay footage from NieR: Automata.
Captured on a stream by YouTuber Arnots HD Gaming, series director Taro Yoko walks us through a little of how the combat and game design works. It's confirmed that players can only control one character at a time, though there will be certain sections of the game where you take control of other characters. It depends on what's going on with the story.
Furthermore, we're told that nearly every enemy will have the same spherical head resembling Emil's iconic grinning skull. However, their head won't always be above their shoulders. In one case demonstrated toward the end of this video, an enemy robot has a head tucked away in their crotch. (Look around the 10:06 mark.)
UPDATE 17/06/2016 5.15pm: Square Enix has released all new footage of NieR: Automata, this time revealing three minutes of a boss battle.
As seen below, this latest clip demonstrates how NieR: Automata effortless blends arcade bullet hell mechanics with third-person combo-driven action. We also see how players use a nearby hovering droid as a gun of sorts, much how the floating sentient book Grimoire Weiss worked in the first game. Check it out:
ORIGINAL STORY 14/06/2016 5.19pm: NieR: Automata, the highly anticipated sequel to Cavia's peculiar action-RPG from 2010 has received a new trailer at E3 2016.
Now slated for an "early 2017" release, NieR: Automata follows the exploits of androids 2B, 9S and A2 as they battle evil robots in a world devoid of humans - who have fled to the moon (of course).
Developed by Platinum Games (Bayonetta, Vanquish) with Nier director Taro Yoko in charge, NieR: Automata looks to keep the first game's mix of third-person hack-and-slash combat with bullet hell projectile avoidance. There's also plenty of robots, vast deserts, lush ruins, and neat eyepatch/mask adornments.