PSP downgrade patch released
Hackers unlock homebrew potential with working downgrade patch.
Hackers have found a way to downgrade Sony PSP from version 2.00 to version 1.50 – older system software that unlocks the potential of the platform to run homebrew software applications like alternative operating systems, calculators, clocks, home-made games and, of course, emulators of ageing systems and software platforms.
Last night the tools and methods to perform the operation were released on several notable PSP enthusiast websites including PSPUpdates.com, which was effectively knocked out of commission for many by a surge of interest from PSP owners around the world.
Although not for the faint of heart, fans report that the downgrading procedure works on Japanese, American and European PSPs, and we can independently verify success on our own Japanese units running 2.00. Anybody attempting to use the approach, however, will want to note that it's absolutely not supported by Sony in any way and is undertaken at the user's own risk.
Earlier this week we had to restrain our excitement a little when we learned that some bright spark had found a way to break through 2.00 security measures by exploiting a flaw in the photo viewer software. This method allowed people to run small homebrew applications on PSPs running 1.52 or 2.00 firmware – which accounts for the vast majority of PSPs sold at retail.
Although this in itself wasn't enough to allow users to run serious software – it was a clunkier method than the old one, and there was a filesize limit of 64KB – by Tuesday small applications were already circulating and it looked like it wouldn't be long before things got back to the way they were with the 1.50 firmware, which effectively gave developers carte blanche to run whatever the hell they wanted.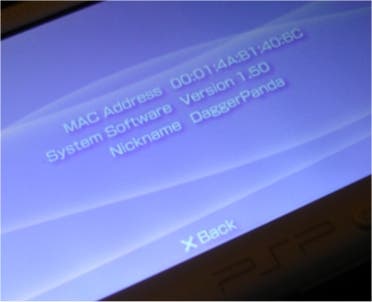 By coupling this new exploit with a specific downgrading tool that applied the 1.50 firmware, however, hackers have effectively circumvented the problem entirely, allowing PSP owners to revert to the older more malleable system software and do what they like. New official game software requires later versions of the firmware, but there are workarounds available to allow for those to run on 1.50 too.
It's a big blow for Sony, which has taken a dim view of the exploit because of its potential to be used in pirating retail software, and will doubtless look to close the loop again in future system software revisions. In the past the company has tried to stamp out the homebrew scene with new firmware and by changing the pre-installed software on units rolling off its production line.
However hackers argue that there are a great many legitimate ways to use homebrew software. One example is the SCUMMVM software – a PSP adaptation of a PC tool for running old adventure games on modern day operating systems. With this installed, PSP owners can play the adventure titles they own on the go. One adventure title, Beneath A Steel Sky, is now freely and legally distributed – even to people who don't own the original game.
The PSP homebrew scene was already receiving wider acceptance prior to the events of last night – including a favourable write-up in reputed UK magazine EDGE recently – and indeed we know a number of people developing official PSP software who already entertain themselves with homebrew software. And while it'll be interesting to see how Sony reacts to this latest breakthrough by PSP enthusiasts, in the meantime it's fascinating to explore the potential for legitimate alternative uses of the handheld. Beneath A Steel Sky is by no means the limit.
Sony had yet to respond to a request for comment at the time of publication. We'll let you know as soon as we hear back.