Watch Countdown on your Nintendo DS
Hurrah for TV tuners.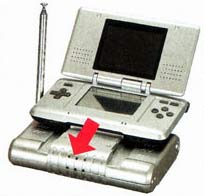 Ever wanted to watch TV on your Nintendo DS? The chances are you haven't, because you don't even own a Nintendo DS, and even if you did you probably can't think of too many scenarios where Countdown would take precedent over Super Mario 64. We can't.
But, from next spring onward, you will at least have the option thanks to Japanese firm Agatsuma Entertainment, which plans to release a TV tuner for the new Nintendo handheld - putting Richard Whiteley within 70 Euro of chuckling out of one of your screens.
The TV tuner is an officially licensed peripheral (by Nintendo, rather than Countdown), which, as you can see from this image we pinched from The Magic Box, is about the same size as the DS itself and connects to the machine's Game Boy Advance cartridge slot.
Which also means that it works on the Game Boy Advance SP, although whether it'll physically fit older GBAs is something Agatsuma hasn't clarified. What we can tell you though is that whatever it's clamped to it'll run off four AAA batteries and give you roughly six hours of viewing before its capacity for delivering Whiteley's wit is completely diminished.
The DS TV tuner is currently set for release in Japan alone next spring, but thanks to the DS' region-free design it should be an option even for those of us watching Countdown without dubbing or subtitles. We'll let you know when we figure out how to get our hands on one.