FF-themed DS Lite for Japan
We want one. To put it mildly.
Not content with bringing us a "Noble Pink" DS Lite (due out on July 20th), Nintendo's preparing to release Final Fantasy-themed hardware to celebrate the launch of the DS Final Fantasy III remake in Japan.
Sadly it is only in Japan for now, and we can imagine imports setting you back a bit - it's all part of a Final Fantasy III set created in conjunction with Square Enix, and as you can see from the product shot the unit's outer shell is adorned with characters and logos.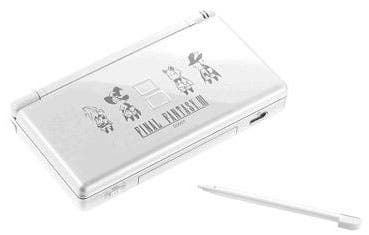 It's due out on August 24th, and will cost the equivalent of GBP 108 / EUR 155.
The Japanese will also soon be getting their hands on the Jet Black DS Lite we've been enjoying here in Europe since the system's launch. Although we've been able to buy the black one (as well as a white model) for a while, it's still unavailable elsewhere - including the US - but Japanese gamers will be able to pick it up starting September 2nd.