New Call of Duty: Black Ops 2 DLC Uprising has an Alcatraz Zombies map
UPDATE: New Mob of the Dead trailer shows Ray Liotta and Michael Madsen playing gangsters fighting zombies.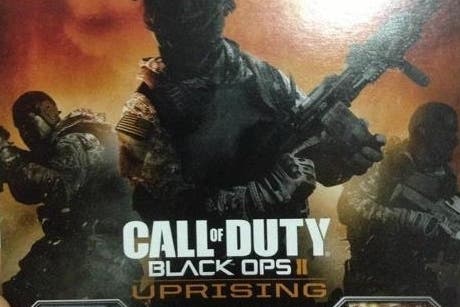 Update 2: Activision has released a trailer for Mob of the Dead, starring Ray Liotta, Michael Madsen, Joe Pantoliano and Chazz Palminteri as 1920s mobsters fighting zombies on Alcatraz. Get a load of its debut trailer below. It's the cat's meow!
Update: Activision has formally announced Uprising, confirming everything below plus adding extra information. The "top Hollywood talent" - the actors - featured in the Alcatraz Zombies map, Mob of the Dead, have been named. They are Ray Liotta (Goodfellas), Michael Madsen (Reservoir Dogs), Joe Pantoliano (Cypher in The Matrix) and Chazz Palminteri (A Bronx Tale, Bullets Over Broadway, and the main cop in The Usual Suspects).
The Mob of the Dead story concerns four prohibition-era mobsters who are serving time in Alcatraz Prison. Their plan of escape is foiled when, well, zombies appear. All that's left now is their gangster thuggery to protect their brains from being eaten.
Interestingly, if they are eaten, there's a new Purgatory area in the afterlife that they'll be sent to, which has new objectives to achieve.
The four other maps were detailed. Magma takes place in a modern Japanese village that has a live volcano nearby; Encore takes place in London amidst a deserted music festival; and Vertigo takes place in India, in a high-tech lab at the top of a towering high-rise building.
The other map is Studio, a Hollywood backlot - and remake of Black Ops 1 map Firing Range.
Uprising is out first on Xbox Live on 16th April. No mention of PC and PS3 dates yet.
Original story: The second map pack for Call of Duty: Black Ops 2 looks like it's called Uprising and will add another five maps to the game - including a Zombies map set on Alcatraz!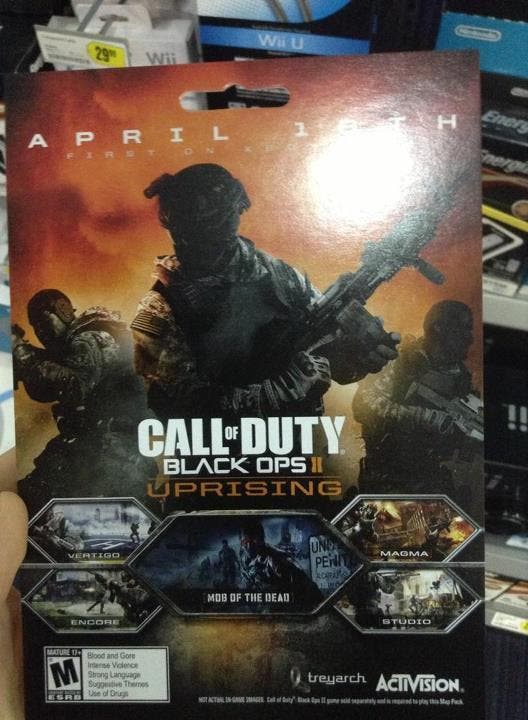 Leaked artwork flaunted a 16th April release date for Uprising on Xbox Live. A timed exclusivity deal means Uprising will release later on PC and PS3.
Uprising contains new maps Magma, Encore, Vertigo and Studio - the latter being a re-make of Black Ops 1 favourite Firing Range. The Alcatraz Zombies map is Mob of the Dead.
Uprising's Xbox.com product listing has also been spotted (thanks, CharlieIntel). It promised "top Hollywood talent" for Mob of the Dead. More famous people as playable characters? Black Ops 1's horror-stuffed Call of the Dead map featured virtual versions of Sarah Michelle Gellar and Danny Trejo, among others.