Mighty No. 9 live-action series is in the works
By the studio that made Mortal Kombat: Legacy.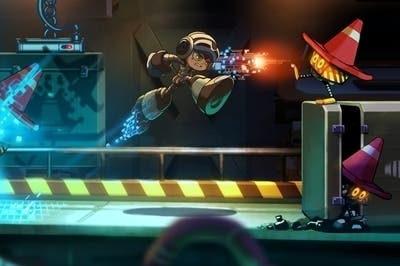 Contradiction Films - the studio behind the Mortal Kombat live-action web series Mortal Kombat: Legacy - is developing a live-action series based on Keiji Inafune's upcoming Mega Man spiritual successor Mighty No. 9. The film making studio's producer, writer and co-founder Tim Carter - who wrote Sleeping Dogs - spilled the beans on the upcoming project in an interview with EP Live.
"We are the very beginning stages of creative development on a digital series for Might No. 9," Carter said. When asked if it would be live-action, Carter replied, "Yes. Absolutely. We are building the story right now."
Carter went on to explain that he was initial skeptical about the translation between mediums, art styles and cultural barriers, but he was won over by Inafune's treatment. "I've done a number of things with Japanese companies and sometimes the cultural translation doesn't really work all that well. You look at their ideas and think 'okay, how am I really going to make this work for a North American audience?'" Carter explained. "I was a little apprehensive about that until I got his [Inafune's] notes and I'm like, 'dude, you should be working at Pixar!' It's so good. We're really, really excited about it."
What do you make of this potential adaptation? Mighty No. 9's story centers around an android tasked with eliminating its siblings after a computer virus has caused them to go berserk, which, if you ask me, is a pretty cool premise. But the game's art style is light, cartoony and expressive - a far cry from live-action. Could it work with human actors or would it just look silly? Guess we'll have to wait and find out, but it's definitely a thing that's happening.