Microsoft reveals Minecraft Store with virtual currency
For mobile and Windows 10 only.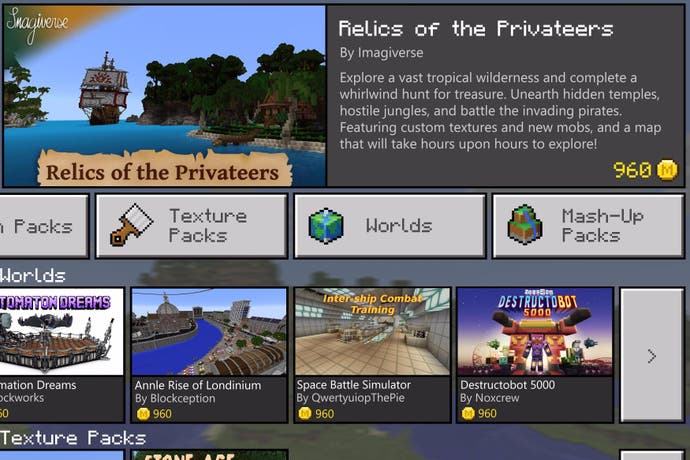 Microsoft has announced a new storefront for selected user-made Minecraft content on mobile and Windows 10, which will go live alongside the game's 1.1 Discovery update this spring.
Applicable only to the C++ "Bedrock Engine" editions of the game - that's to say, not to console or the original Java PC version - it lets approved creators and teams sell their Minecraft maps, skins and other assets using a virtual currency, Minecraft Coins, the idea being to boost the game's community of entrepreneurial artists while making it easier for players to track down the best Minecraft maps.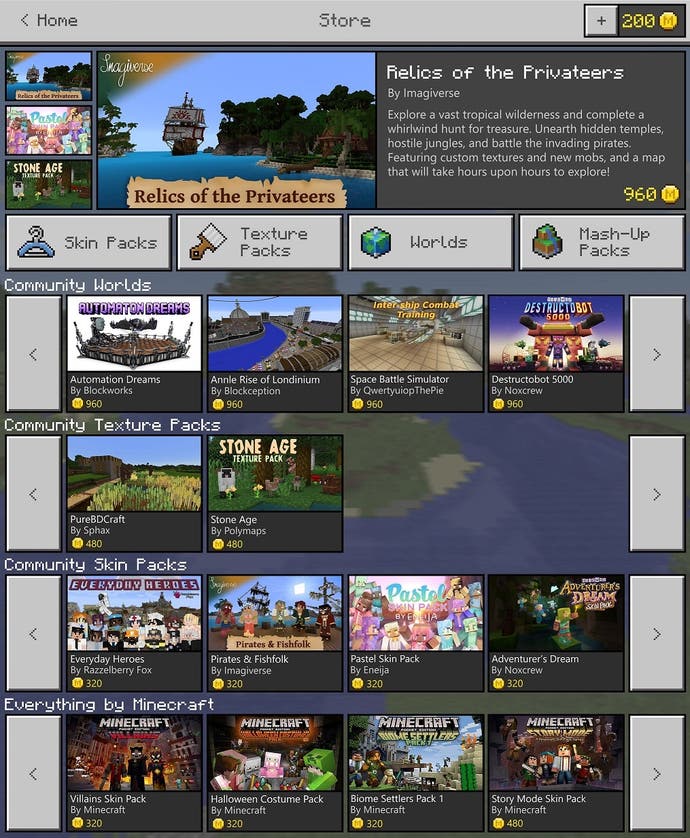 The storefront will launch with nine big-name partners - Blockception, Blockworks, Eneija Silverleaf, Imagiverse, Noxcrew, Polyamps, Qwertyuiop The Pie, Razzelberry Fox and Sphax - and a mix of adventure maps, texture packs and mini-games. Microsoft will add new creators to the listings every month. Anyone can register to have their work included on the storefront, but you'll need a business license to apply.
You buy Minecraft Coins with real money, and Microsoft has shared a number of provisional US price points - $1.99 for 300 coins, $4.99 for 840 coins and $9.99 for 1,720 coins. Of each actual content purchase, the first 30 per cent of the proceeds goes to the store, while the "lion's share" of the remainder - more than 50 per cent - goes to the creator. You'll need an Xbox Live account to buy coins, which go into an online wallet and can be spent across any Bedrock Edition of the game - the exception to this being the iOS version of the Pocket Edition, which stores those purchases separately.
Microsoft says it is "working toward making content players buy available on multiple devices as well, enabled by a free Xbox Live account", but for the moment, it seems, you can only buy content for use on one device. Each individual piece of content will cost at least $1.99.
According to Microsoft, all this "gives our partners a platform to share their creations and earn a living from their work without requiring a full game update each time new content is added, as well as added flexibility for creators to set prices as they choose using a standard currency".