Mass Effect 3 Rebellion DLC release date announced
Free multiplayer expansion adds maps, weapons, characters.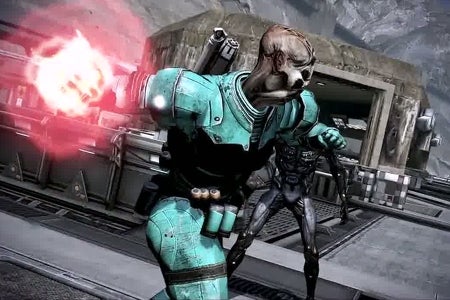 A new Mass Effect 3 DLC pack, titled Rebellion, is available to download free of charge next week, BioWare has announced.
The pack, which includes a batch of new multiplayer content, is available from 29th May on PC and Xbox 360, and 30th May on PlayStation 3.
First and foremost, there are two new maps. Firebase Jade overlooks a jungle reservoir surrounded by huge waterfalls, while Firebase Goddess is a circular stage set in the middle a Thessian metropolis.
The DLC also adds a number of new playable characters. Here's the full list:
Vorcha Soldier
Vorcha Sentinel
Male Quarian Engineer
Male Quarian Infiltrator
Ex-Cerberus Vanguard
Ex-Cerberus Adept
Finally, there are a few new weapons to get to grips with too: the Cerberus Harrier Assault Rifle, Reegar Carbine Shotgun and Krysae Sniper Rifle.
BioWare's official blog has an FAQ and additional information.