Mass Effect 3 Facebook app rewards Xbox 360 players
Complete missions, earn prizes.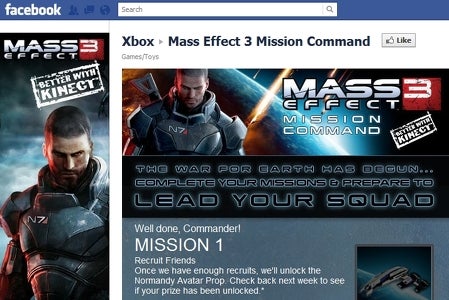 Microsoft has launched a Mass Effect 3 Facebook app to reward players with avatar props and competition prizes.
Signing up to the app allows you to join "missions" which, if completed, unlock Xbox 360 rewards and entry into sweepstakes, including the chance to win to a Mass Effect 3 Custom 250GB Xbox 360 console, which comes in both Paragon and Renegade flavours.
The app won't provide any in-game bonuses and appears separate from EA's planned "handheld/mobile" tie-in, which will aid players in Mass Effect 3's Galaxy at War metagame.
The first Facebook mission is available now and merely requires players to sign up to the app. Once enough people have joined in you'll receive a Normandy prop for your Xbox avatar, likely the same one that comes with the game's Collector's Edition.
Mission number two, coming next week, will reward players with early access to the Mass Effect 3 demo. You'll have to submit your best pick up line to take part, or, if you're feeling Renegade, your best rejection put-down.
11 Facebook missions are planned, leading up to the game's launch on 9th March. One will reward players for downloading the game's demo (you'll get a free virtual t-shirt), while another will ask you to submitting videos of yourself doing Mass Effect character impressions (you could win the game's Collector's Edition).