Marvel's Spider-Man, Just Cause 4 coming to PlayStation Now in April
As is The Golf Club 2019.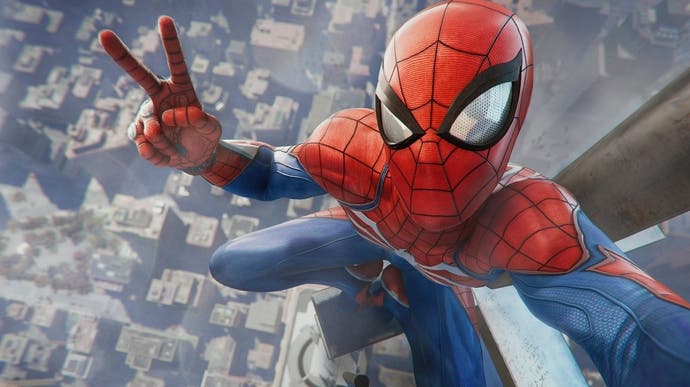 April is here, meaning long weekends, a disturbing excess of egg-shaped confectionaries, and also new games for Sony's PlayStation Now subscription service, which this month adds Spider-Man, Just Cause 4, and The Golf Club 2019 for streaming and download.
Marvel's Spider-Man, of course, was a bit of a highlight on its release in 2018, with developer Insomniac Games offering up a wonderfully breezy - and attractive - urban open-world adventure in which everybody's favourite sticky fingered superhero saved civilians and slung his gunk at crooks and miscreants the length and breadth of Manhattan.
"Can you truly say you have lived until you have lamped someone with a manhole cover?", asked Christian Donlan in his Recommended review of Spider-Man on release, before celebrating the other moments that give Insomniac's effort such a distinctive feel to its frequently drabber, darker open-world contemporaries, despite its structural similarities.
"The Spider-Man difference is glimpsed in everything," he wrote, "Combat...still takes its lifeblood from the free-flow punch-ups of Arkham, but here it's coursing through the veins of a lither, less substantial hero", while traversal, too, is "enlivened with a youthful energy, a twist of the hips at the top of each arc, a distinctive and adolescent jumble of shoulders and elbows and legs when perched on top of a finial".
"It's a reminder, then," concluded Christian, "that while it seems that games of a certain type - and a certain budget - are all converging these days...there are still places, even within the most risk-averse of designs, for genuine character to bloom."
There's a very different, and considerably more chaotic, kind of open-world adventure to be found in PlayStation Now's second April offering, Just Cause 4, which sees grapple-armed stunt supremo Rico Rodriguez raining sandbox-style mayhem upon South American shores.
This time, the over-the-top traversal action is bolstered by extreme weather set-pieces, and the end result is a knockabout experience that's as gleefully unrestrained as it is scrappy.
"Just Cause gets away with this," wrote Christian in his Recommended review back in 2018, "just as it gets away with building a sequel around a few stand-out weather missions and a bunch of balloons, because it has that rare commodity in games. Just Cause is charming, and Just Cause 4 is as charming as all the others. Rico isn't just a liberator on a mission, he is likeable and fun to be around."
As for PlayStation Now's third addition in April, The Golf Club 2019 is a golf sim featuring a procedural-generation-based course creator, which didn't get a review on Eurogamer but appears to have been broadly well-received.
"Compete in multiple events - including real and fictional tournaments - earn your right to play in the PGA TOUR and join the race for the FedExCup," enthuses the official blurb. "Endlessly customise your courses and characters with an enhanced Course Designer and upgraded Character Creator, including updated club sets, clubhouse interiors and licensed apparel."
All three games will be streamable on PS4 and PC (and are downloadable on PS4), with Spider-Man remaining available on PlayStation Now until Tuesday, 7th July. Just Cause 4 is sticking around until 6th October, and no departure date has been given for The Golf Club 2019.