Mario Kart 8 Deluxe patched to remove offensive arm-clench gesture
Arms shocked as you are.
Mario Kart 8 Deluxe has this morning been updated to remove an arm-clench gesture deemed offensive in some countries.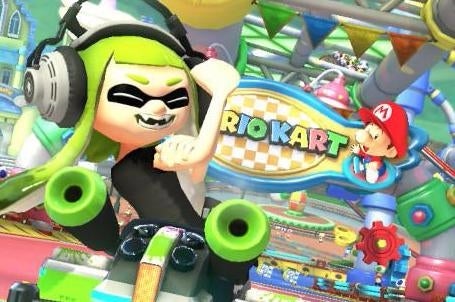 The Nintendo racer's Inkling Girl character previously used to perform a celebratory arm pump similar to the obscene bras d'honneur gesture - clenching your first and pumping your arm, while holding it with your other hand.
While not deemed offensive in the UK - or in Japan, where it is simply seen as a celebration - the move is considered an insult in Latin America, France, Spain, Italy and Portugal, among others.
Its meaning differs from country to country - from the equivalent of giving someone the middle finger to more offensive meanings involving your fist and the intended target's mother.
See these before and after screenshots from NeoGAF user Neiteio showing the patch's subtle change: The gesture now is a simple arm pump - the other hand is no longer part of the equation.
This wasn't the only thing to change in the patch. A full list of other differences lie below:
Mario Kart 8 Deluxe v1.1 patch notes
Opponents' names are displayed in the rear view mirror view in online matches.
Invincibility period after a spin-out or crash is longer in online matches.
Up to two players can spectate a friend group while they wait to join.
"Worldwide" and "Regional" modes add players to Mirror and 200cc matches less often.
Can now properly create a friend lobby when you have 100 or more friends.
Inkling Girl's animation has been adjusted.
Starting positions in online races now properly reflect the order in which players join.
Driver Miis now properly showing facial expressions.
Tournament clock now properly reflects real-world time.