Making sense of Steam's refund policy
EU law says you have a 14 day no questions asked refund right. What does Valve think?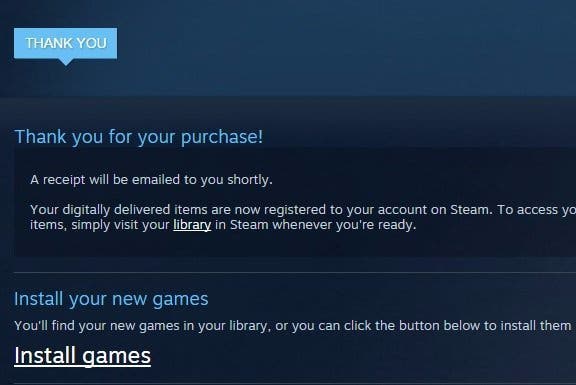 This week, Steam users on Reddit noticed Valve had recently updated its subscriber agreement, and in the process sparked a debate about its refund policy.
Buried within the agreement is a paragraph about relates to a 14-day no questions asked refund policy for customers in the EU.
Here's the relevant text:
It was thought that this was a new addition to Valve's Steam agreement, but in truth EU law dictating a 14-day refund policy for digital goods has been in place since summer 2014.
Video games lawyers have told Eurogamer that Valve and all other major eCommerce platforms changed their consumer terms and conditions to comply with the EU's new consumer laws as set out by the Consumer Rights Directive last year. It means EU consumers have a 14-day return ability for "digital content".
And here's how it works, according to EU law:
We're even given an example:
Now, Valve has come under fire for apparently forcing users to waive their right to a refund before buying something, which sounds ridiculous. But is the company behind Dota 2, Half-Life, Left 4 Dead and Team Fortress actually breaking the law?
When EU customers buy something from Steam, they're shown the following message during the checkout process (we got this message while buying System Shock 2):

The important word in all of this is "performance". The customers' right to a refund within 14 days can be lost if "the performance has begun with the consumer's prior express consent and his acknowledgement that he thereby loses his right of withdrawal", according to Article 16(m) of the Consumer Rights Directive.
The problem is, we don't yet know what "performance", exactly, means, as there has been no specific legal ruling or guidance on the mater.
The upshot is that once the contract is being "performed", the right to a refund can be lost. And in Valve's eyes, this happens as soon as you click "purchase" - not as soon as you begin downloading.

There appears to be a discrepancy between how this should all work in practice according to EU law and according to Valve. EU law mentions you may no longer withdraw from the purchase once you start downloading or streaming the content. As far as Valve is concerned, you may no longer withdraw from the purchase as soon as you, well, make the purchase.
This seems outrageous, and it certainly seems anti-consumer, but Valve is no doubt protecting itself here from those who may wish to game the system by treating Steam as if it were a library.
It's worth comparing Valve's policies to other video game platforms. GOG, for example, has a pretty generous "withdrawal right":
EA's Origin refund policy appears generous, too. It offers refunds under what's called the "Great Game Guarantee":

You see the image on the right when buying a game through Origin. Like Steam, Origin requires you agree to waive your right to a refund as soon as you place your order. This is slightly confusing, because below this message is the reassuring note about the Great Game Guarantee.
Buried within EA's Origin Terms of Sale is mention of the EU law.
It may take a lawsuit from a disgruntled customer to test the strength of Valve's implementation of EU law.