Mafia 3 and Dead by Daylight lead PlayStation Plus' games for August
Alongside Serious Sam 3 BFE, Space Hulk, and more.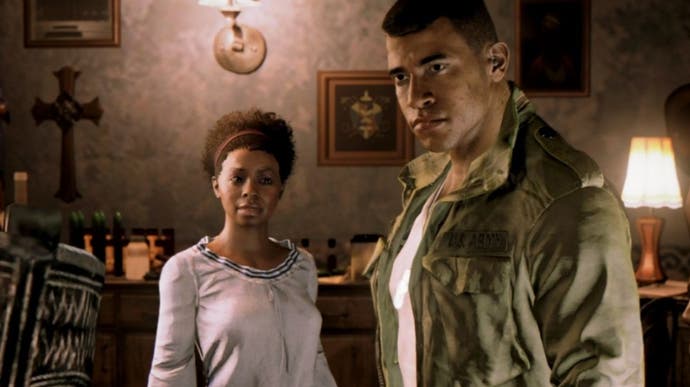 August is here, which means another cluster of PS4, PS3, and Vita games heading in the direction of PlayStation Plus subscribers, this time including open-world crime caper Mafia 3, and multiplayer slasher-rama Dead By Daylight.
Mafia 3, which was described as being "as clever and original as it is tedious and broken" when Eurogamer contributor Edwin Evans-Thirlwell reviewed it in 2016, is the first of August's two PS4 offerings. This most recent Mafia instalment relocates the series' familiar open-world formula to the New Orleans of 1968, where protagonist Lincoln Clay returns after serving in the Vietnam war. Needless to say, crimes ensue.
Edwin was particularly taken with Mafia 3's world-building, noting that its city "often genuinely looks and sounds like the product of decades of ethnic struggle and systematised abuse. The portrayal of social division isn't binary and overt, but intricate, entrenched and unresolved." Sadly though, the strong narrative and sense of place couldn't quite save the uninspiring "soup of by-the-numbers fetch-quests, outpost infiltration sequences and firefights".
Dead by Daylight, meanwhile, is an asymmetrical 1v4 multiplayer slaughter-'em-up, in which a team of survivors must fend off the murderous advances of a persistent psychopath. Or rather, a variety of murderous psychopaths, given that it features a whole cast of killers inspired by classic horror movie tropes, alongside the actually licensed likes of Freddy Krueger and Leatherface.
Eurogamer contributor Keith Stuart wrote of his fascination with Dead by Daylight's unusual systems of "tension, teamwork and the psychology of fear" earlier this year, alongside the rise of more personal, emergent online experiences. "Sometimes you learn as much from weird imperfect games as you do from masterpieces", he noted, and the rest is well worth a read.
Over on PS3, Plus subscribers get Bound By Flame, a 2014 fantasy title which Eurogamer called "a poster-boy for the janky Euro-RPG" - and the review didn't get any kinder. "With its shonky cut-scenes, its outdoor sound effects that play indoors and its linear maps, this is in no way a current-gen experience. It's a budget offering at a premium price - and a poor one at that."
Thankfully, PS3's second freebie, Serious Sam 3 BFE, is a far better offering. It's "a faithful and heartfelt ode to old-school FPS carnage", according Eurogamer's 7/10 review, which "certainly delivers the dumb fun that Duke Nukem Forever so dismally failed to recapture - and that, for many retro-heads, will be more than enough."
Last but not least, then, is Vita, which gets gory, ninja-themed slice-'em-up Draw Slasher in August, as well as a reasonable blast of turn-based strategy in the form of Space Hulk - which Dan Whitehead called a "well-intentioned but scruffy recreation" of the classic board game when he reviewed it on PC in 2013.
That, however, is still not quite everything for PS Plus subscribers. Sony is also throwing in a bonus PlayStation VR game in the form of surreal, visually striking psychological horror Here They Lie (which will be available from August 7th to October 2nd), and PlayLink trivia game Knowledge is Power - available to PS4 players between August 7th and November 6th.