LucasArts had been working on a Day of the Tentacle HD remake
Was allegedly 80 per cent complete.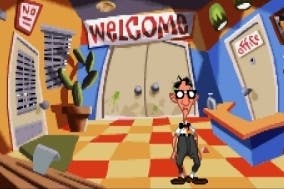 Prior to its closure earlier this year, LucasArts had been working on an HD remake of Tim Schafer and Dave Grossman's point-and-click adventure classic Day of the Tentacle. This was revealed in Kotaku's lengthy expose on the fall of LucasArts.
Three former LucasArts staff corroborated word of the project's existence, which was in development at LucasArts Singapore. Evidently it would have featured 3D art on a 2D plane, along the lines of the Special Edition remakes of the first two Monkey Island titles.
Allegedly the game was 80 per cent complete, according to one source, while two sources said that despite its status, it was never officially greenlit.
"For many involved this was a dream project," said one anonymous source on the project. "But sadly, like many, many LucasArts games in development, it never saw the light of day."
The Kotaku report went on to mention other canned projects such as a casual Facebook and mobile Star Wars title called Smuggler; a Farmville-esque empire-builer called Outpost; and Death Star, an iOS game about running the moon-shaped base. LucasArts was allegedly even brewing an Origin-like portal to distribute its wares. It was supposed to launch with another cancelled project, Star Wars: First Assault.
Incredibly, a couple of sources noted that Death Star and Outpost were complete and had even gone through QA testing, making their absence all the more baffling.
For the full scoop on LucasArts' mismanaged fall from grace, check out the full report on Kotaku. It's a fine read on the closure of such promising projects as Stars Wars 1313 and Star Wars: First Assault. Fingers are pointed. Names are named.