Lone Survivor: The Director's Cut is out today on PS3 and Vita
UPDATE: Coming soon to PC and Mac. Original game sold over 800K copies.
UPDATE: Lone Survivor creator Jasper Byrne noted on his blog that the PC and Mac versions of the Director's Cut will follow shortly.
No release estimate was given, but Byrne said "The PC and Mac release, on Steam and the game's website, won't be far behind. In other words, it will be out as soon as I can physically do it. It will take time as it's not a simple port, but it is my next priority and I will have more news about this soon."
Elsewhere, he noted that the original PC and Mac game sold over 800K copies. Not too shabby for a one-man effort!
For granular detail on what's been enhanced in this spruced up version of Lone Survivor, check out Byrne's latest blog entry.
Original Story: The PS3 and Vita port of Jasper Byrne's surreal survival horror affair, Lone Survivor, is coming out today where it will cost £9.99 / €12.99 / $12.99.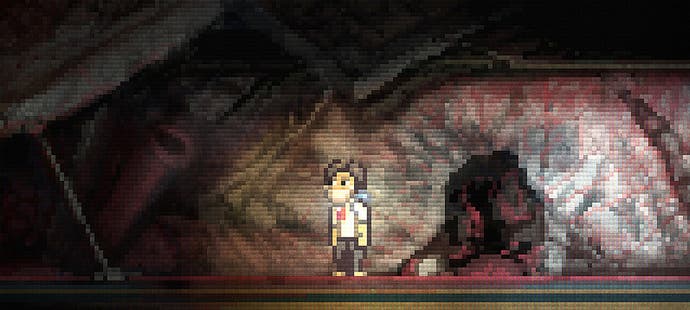 This PSN version features Cross-Buy and Cross-Save support, so buying it on one Sony platforms automatically unlocks it on the other and you can shift your save data back and forth between the two versions.
Being a "Director's Cut," this new version of Lone Survivor features a few new additions by Byrne along with porting studio Curve, who previously worked on PS3/Vita versions of Thomas Was Alone and Stealth Bastard: Deluxe. The biggest new feature is a New Game Plus mode that radically alters the game by adding new dialogue, puzzles, and items that can be used to influence how the story plays out. Byrne even mentioned before that there will be an all new ending, ostensibly only in New Game Plus.
"Lone Survivor is a game that's designed to be played multiple times and one that adapts to different types of play, something we think is pretty rare in modern horror games," said Curve manager Rob Clarke on the EU PlayStation Blog.
Additionally, this rendition of Lone Survivor features enhanced lighting and adds an extra challenging platinum trophy for those especially dedicated players.
Check out Lone Survivor's new home on PSN in its launch trailer below.