London's Pokémon Center has a new Pikachu plush - but it's not exclusive to the store
Fans aren't Happiny.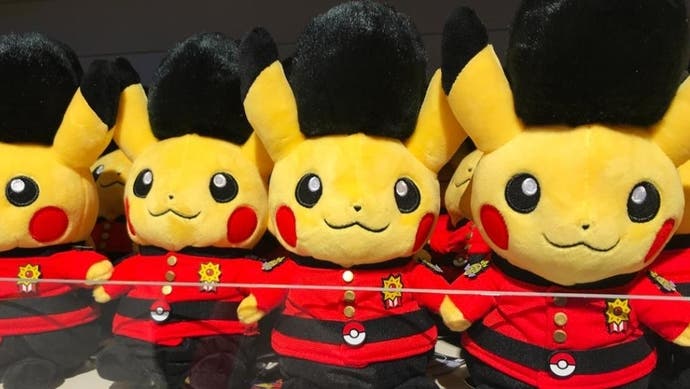 It's official - the exclusive London City bowler hat Pikachus have all but run out, leaving a fuzzy hatted imposter in their place.
On Sunday, 10th November the pop-up store finally ran out of the coveted Pikachu plushies, meaning the London Guard Pikachus have marched in to help fill the shelves.
#PokemonCenterLondon update:

Due to phenomenal demand, London City Pikachu plush are now completely out of stock.

Please continue to check this channel for updates.

— Pokémon Center London Updates (@PokemonPopUp) November 10, 2019
However, the London Guard Pikachus aren't exclusive to the London shop - they've been available on the Pokémon Center site for a little while now as a part of an Around the World plush collection. They're also sold out on the website at the moment - presumably because the company had to urgently ship all the stock to the London Pokémon Center.
We reported last week the Pokémon Center was getting low on stock, which is no surprise considering the number of fans that turned up to the pop-up waiting upwards of six hours to get a glimpse inside.
So, bear in mind there'll be no more bowler hat Pikachus if you're planning a trip before the shop's closure this Friday. On the upside however, you might see this guy, tempting you in to buy one of his tiny clones.